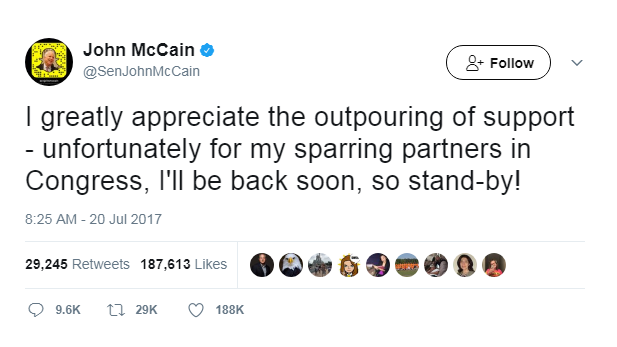 Sen. John McCain tweeted July 20 he plans on returning to work as soon as possible following his cancer diagnosis.

@SenJohnMcCain
Sen. John McCain returned to Arizona Friday to prepare for his cancer treatments.
Monday, doctors at the Mayo Clinic will begin treating McCain with a course of targeted radiation and chemotherapy.
McCain had a tumor removed earlier this month. A biopsy diagnosed it as glioblastoma, an aggressive type of brain cancer.
His office says the treatment is what is normally given to patients with a similar diagnosis.
McCain will continue his normal work schedule while in Arizona and plans to return to the U.S. Capitol at the end of the August recess, according to his office.
This is McCain's second bout with cancer. In 2000, he was diagnosed with melanoma.