An aerial photo of the southern tip of Greenland's ice sheet, surrounded by glacier-carved fjords. UA scientist Jack Reeves Eyre says the island's ice melt could significantly raise sea levels in the next 50 years.
NASA via Jack Reeves Eyre
Two University of Arizona researchers have compiled a dataset of Greenland's past temperature patterns, information they say is necessary to predict how fast the country's ice sheet will melt.
The new study gives climate scientists a reliable basis to predict how quickly and to what degree Greenland's ice melt will cause sea levels to rise. Reeves Eyre said this is important because the melt could significantly raise sea levels within 50 years.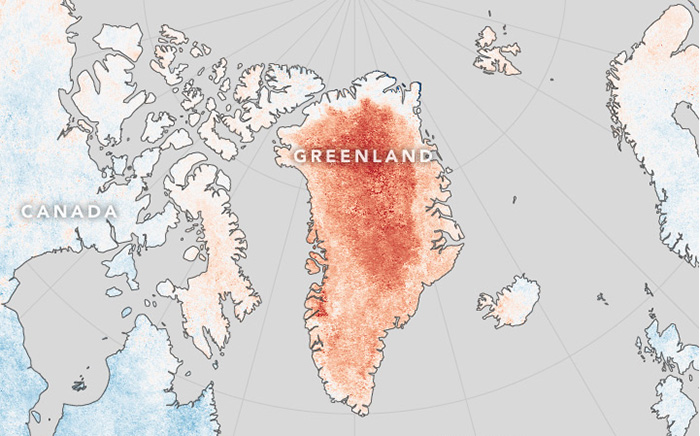 VIEW LARGER The redder the area on this map of Greenland, the more days that site was warmer in April 2016 than the average of April temperatures from 2001 to 2010.

Jesse Allen, NASA Earth Observatory
The researchers, Xubin Zeng and Jack Reeves Eyre, compared 16 different datasets to create their own.
"We're more just providing a solid foundation that other scientists who do direct estimates of future melting," Reeves Eyre said. "A more solid foundation that they can work from."
Reeves Eyre says individual reports estimating Greenland's temperatures before 1995 aren't very reliable. Before then, he said, the country didn't have any weather stations that measured temperature.
"The idea is to give a better, kind of more solid understanding of which are the most reliable datasets to use if you're going to do something like work out how good a climate model is."