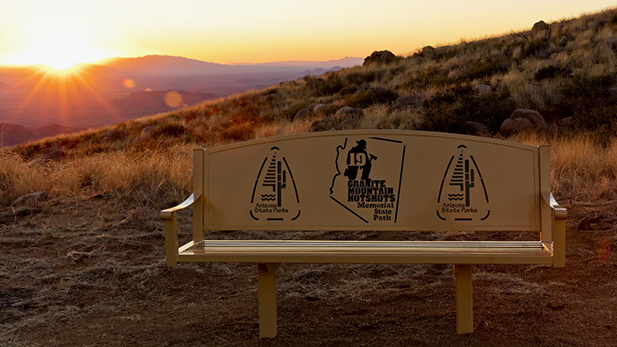 Visitors to the Granite Mountain Hotshots Memorial State Park may hike about seven miles round trip, to the spot where 19 elite firefighters died in 2013. The mens' families had a hand in designing this memorial and wanted it to remain rustic. (PHOTO: Courtesy of Arizona State Parks)
Bells will ring 19 times in Prescott, Prescott Valley and Yarnell at 4:42 p.m. Friday to remember the 19 men who lost their lives four years ago in the Yarnell Hill Fire.
The memory of June 30, 2013 is all too clear for the northern Arizona community, as another fire burns 14 miles south of Prescott today. The Prescott National Forest's Pete Gordon told the community earlier this week the 19 Granite Mountain Hotshots weigh heavy on his mind, and their deaths are memorialized by lessons learned, he said.
The 19 men died when they left the safety zone, hiked down into a box canyon and lost sight of the fire. As the crew moved into the drainage the winds changed direction and speed. The flames overwhelmed them.