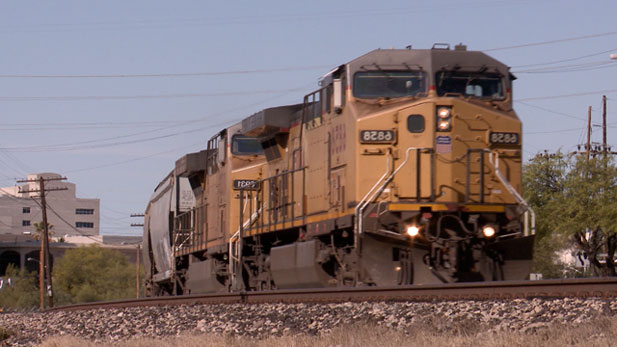 A Union Pacific freight train, pulled by two locomotives, rolls into the train yard southeast of downtown Tucson. (PHOTO: AZPM)
Officials from Arizona and its cross-border neighbor, the Mexican state of Sonora, are lobbying airline and railroad executives for improved service to the region.
Participants in the Arizona-Mexico Summit scheduled for Thursday and Friday in Scottsdale will make their pitches to transportation officials in attendance.
Speakers include the head of Aeromar Airlines, which offers flights from Tucson to three cities in Mexico, and Union Pacific, which is the only rail company that transports cargo across the Arizona-Mexico border.
Juan Ciscomani, who handles international affairs for the governor of Arizona, said he hopes executives will see new opportunities in the region.
"So we want them walking away saying, 'Arizona and Sonora have it together, not only in their respective states, but also they really want business, and they're a business-friendly region'," Ciscomani said.
Arizona borders account for almost 7 percent of U.S. trade with Mexico.