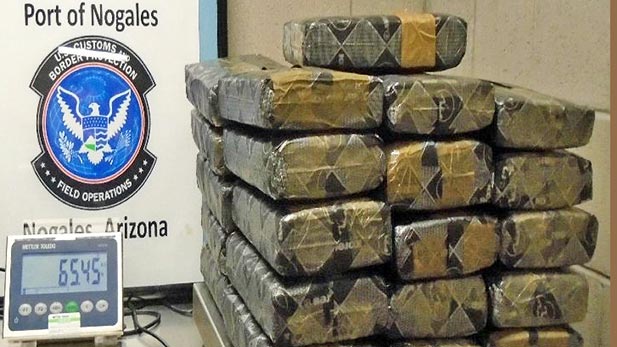 Customs and Border Protection, Nogales
The United States and Mexico today pledged to step up efforts to jointly take down transnational crime organizations trafficking opioids, which are causing deaths on both sides of the border.
U.S. Secretary of State Rex Tillerson and his Mexican counterpart Foreign Minister Luis Videgaray said in a joint news conference in Washington D.C. that each side must own up to their role in creating the major binational crisis.

Mexico's drug enforcement agency reports that cartels have increased the production of illegal synthetic opioids by 400 percent in the past five years.
"America must also confront the reality that we are the market. We Americans must own this problem," Tillerson said.
And the problem is an epidemic, according to the Centers for Disease Control. Since 2002, the death rate from opioid overdoses has almost tripled. At the Nogales port of entry, opioid seizures coming from Mexico have increased, Border and Customs official Teresa Small said.
"In fiscal year 2016, we seized 40 pounds of illegal opioids. We have seized twice that amount in just the first five months of this year."
The Mexican government said that in the past 10 years around 20,000 Mexican soldiers have been killed fighting the cartels. In the U.S., in 2015, almost 20,000 deaths were attributed to opioid overdose.

Details of planned U.S. and Mexican efforts will be released in the weeks to come.