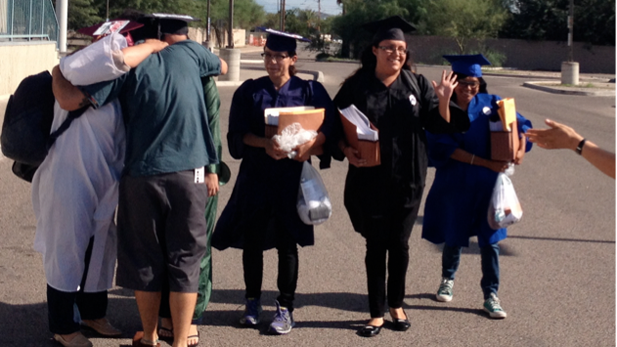 Several of the nine "dreamer" activists freed at the Tucson Greyhound station after three weeks in custody.

Michel Marizco, Fronteras Desk
Former President Barack Obama's order putting off deportation for young people in the country illegally gave them a reprieve and the right to work.
But for some, returning to Mexico was the only option for higher education.
A decade ago, Daniel Arenas was a 17-year-old living in South Carolina, just a few months from graduating high school. He, like most of his peers, faced a big question: What now?
But unlike most of his peers, Arenas was living in the United States illegally. He was brought to the US by his parents without proper documentation when he was just three years old. And that made enrolling in a U.S. university or college at best problematic, at worst impossible.
Arenas knew one thing, though: he wanted and would to go to college.
"So I started looking into options of universities in Mexico and I found a university that would allow me to do the admissions process while I was still in the U.S.," Arenas said.
Arenas now lives in Monterrey, Nuevo Leon, south of Texas, where he ended up going to school. His story of returning to Mexico for college is becoming more common for other young people known in the United States as "dreamers."
An estimated 70 dreamers are currently enrolled at the University of Arizona. What's not know is how many others from Tucson and Arizona decided, like Arenas, to return to Mexico for college.
UA freshman, dreamer and immigration activist Ana Mendoza said she considered returning to Mexico for college, but stayed in Tucson because she wanted to study immigration law — a field of study that doesn't exist in Mexico.
"It's really frustrating to think that a country you grew up in and a country you thought as home doesn't welcome you with its arms open, but turns its back toward you," Mendoza said. "But at the same time, there's resistance. And it's also resistance in students who take the choice of leaving and going back to their country."
Mendoza said the process of applying to and getting accepted into Mexican public and private universities also thwarted her from returning.
Mexican universities have historically taken months, or even years, to recognize dreamers' U.S. educations as prerequisites for college acceptance.
Another repatriated dreamer who grew up in Arizona, Cristian Herrera, said the lengthy revalidation process quashed his desire to study at all.
Herrera went from Phoenix to Mexico with his parents when they left halfway through his senior year of high school. He said he wanted to study architecture at a Mexican university, but went to work instead because of college application difficulties.
"During that time, it really made me not want to study any more," Herrera said. "It just made me like, 'Ugh, forget it'."
There soon may be relief, said Karel Salgado Vargas, director of international studies at the Autonomous University of Mexico State, in Toluca.
"There are some international agreements that allow us to recognize certain educational credits, for example those from the United States, as valid in Mexico," Salgado Vargas said in Spanish. "It's just a process getting them validated.
Salgado Vargas said many Mexican universities, including hers, are taking independent measures to help dreamers get their school credits validated.
Mexican President Enrique Peña Nieto issued an executive order in April that required Mexico's public universities to revalidate dreamers' U.S. transcripts.
Arenas, Mendoza and Herrera said dreamers are still socially stigmatized, though, in both the US and Mexico, government efforts aside.
They are "ni de aqui, ni alla," from neither here, nor there. But by attending university or repatriating, they said they overcome that stigma, even if the odds are stacked against them.