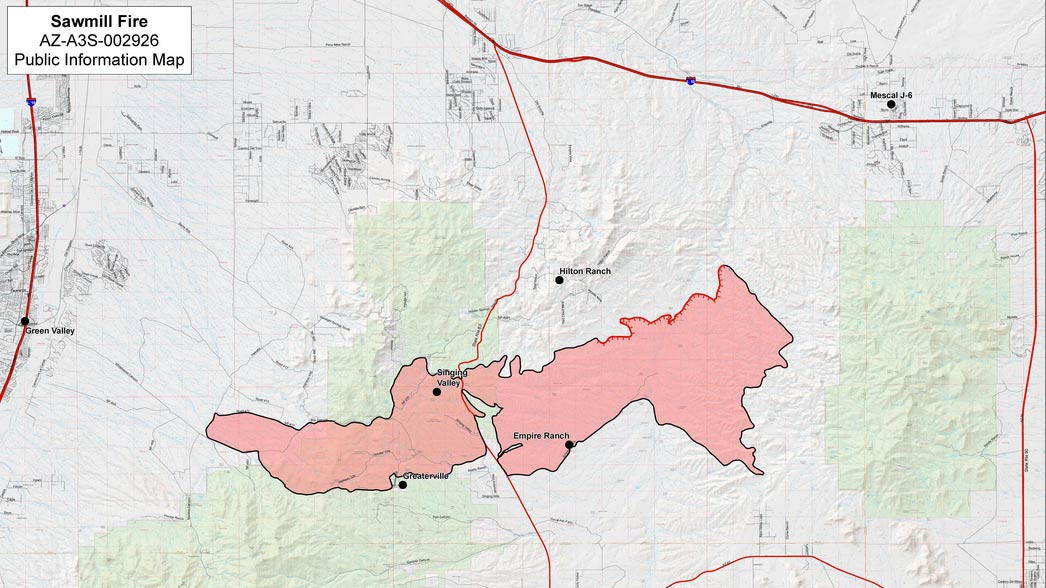 Footprint of the Sawmill Fire, showing black line for containment along 94% of its perimeter, May 1, 2017. (PHOTO: US Incident Information System)
A fire that burned nearly 47,000 acres southeast of Tucson was near complete containment Monday, federal fire managers reported.
Fire managers have lifted all evacuation and pre-evacuation notices for areas near the Sawmill Fire and reported containment lines were holding around 94 percent of the fire's perimeter.
The fire started near Madera Canyon southeast of Green Valley April 23 and was driven by high winds and dry grass and brush. It quickly swept over the northern end of the Santa Rita Mountains.
There, it threatened several ranches and at one time was headed for the ranching community of Mescal before winds died down and the fire stopped spreading. Heavy aerial fire retardant drops also kept it in check.
Crew levels dropped to around 300 Monday, and more were expected to depart. The number of firefighters on scene peaked at almost 800 at the end of last week.
The firefighters that remain on the scene are patrolling the perimeter of the fire.
"They'll actually go around the fire and touch it with their bare hands and shift around the soil and they'll put water on it to ensure that the fire's edge is cold," said fire management team spokesperson Sandra Lopez.
State Route 83 was reopened, though traffic delays are expected on the highway as crews work to repair a guardrail that was damaged in the fire.
Authorities said the fire was human-caused. The Associated Press reported that investigators said the fire started from recreational gunfire April 23 in grass and brush near Madera Canyon. An off-duty Border Patrol agent who was in the area shooting reported the fire shortly after it started.