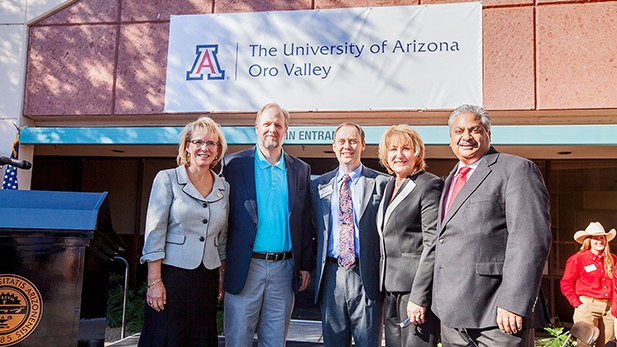 UA and Oro Valley officials at the future home of the state's first public veterinary school in Oro Valley. From left: Senior VP/Research Kimberly Andrews Espy; veterinarian and UA alumnus Dr. Michael Ames; CALS Dean Shane Burgess; UA President Ann Weaver Hart; Oro Valley Mayor Satish Hiremath. (PHOTO: John de Dios/UA)
The American Veterinary Medical Association, an accrediting body, says the University of Arizona's proposed vet school is still not meeting the requirements for accreditation.
The initial denial came last summer, and the university appealed that decision.
In the latest rebuke, the accreditor said the school is not meeting four of the required 11 standards.

Provost Andrew Comrie said accreditation is a process that is very rarely a simple thumbs up or thumbs down. And, ultimately, "we remain committed to our proposed veterinary school," he said.
The UA will be allowed to reapply in June and has hired a consultant with experience in the process.
And the first classes aren't yet on the horizon.
"Probably the earliest would be a couple years from now if we went through all the motions reasonably expeditiously," said Comrie, citing fall 2019 as a realistic aim.
The UA would be the first public veterinary school in Arizona.