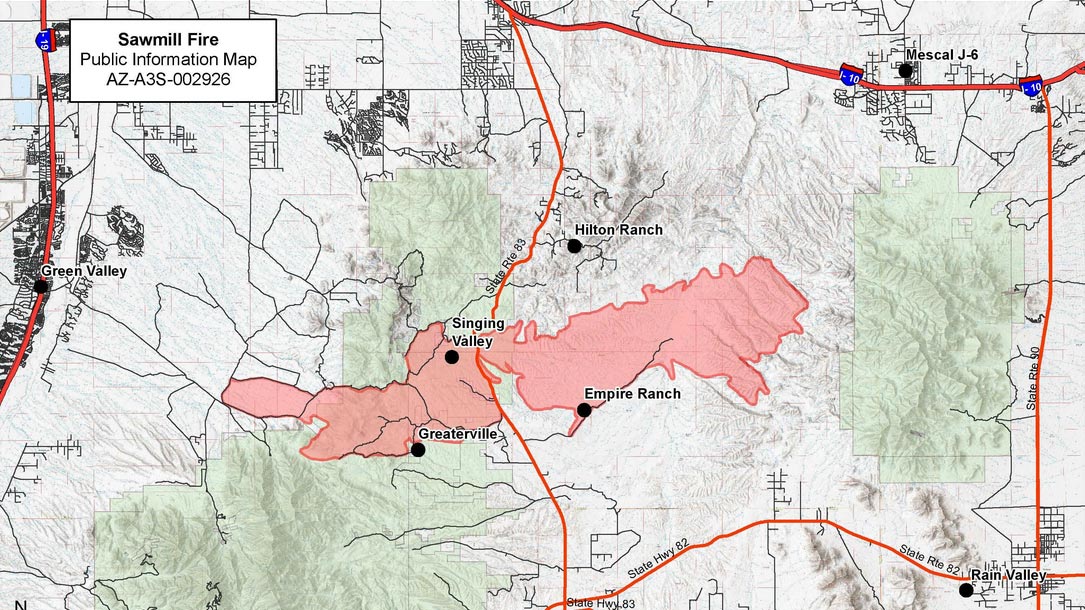 A map illustrating the location of the Sawmill Fire.
US Incident Information System
Windy conditions resumed Thursday night and Friday, pushing the Sawmill Fire to nearly 47,000 acres in grass and brush southeast of Tucson.
The Associated Press reported that an off-duty U.S. Border Patrol agent was being investigated for possibly starting the fire while shooting recreationally Sunday near Madera Canyon. Officials say the agent immediately reported the fire.
Nearly 800 firefighters were on the lines and flying helicopters and aerial tankers. Conditions Thursday led to the grounding of planes and helicopters for the second time since the fire broke out Sunday near Madera Canyon.
Forecasts for high winds were uppermost on firefighters' minds.
"Depending on what the wind does, we will or will not be able to fly, and that determination is made as we go along in the incident," said fire management team spokesman Manny Cordova. "But yes, as long as winds permit and conditions are favorable, we will get aircraft up in the air to help support the fire."
Similar weather conditions are expected through Saturday, with sustained winds in excess of 20 miles per hour, and gusts expected to reach as high as 44 miles per hour.