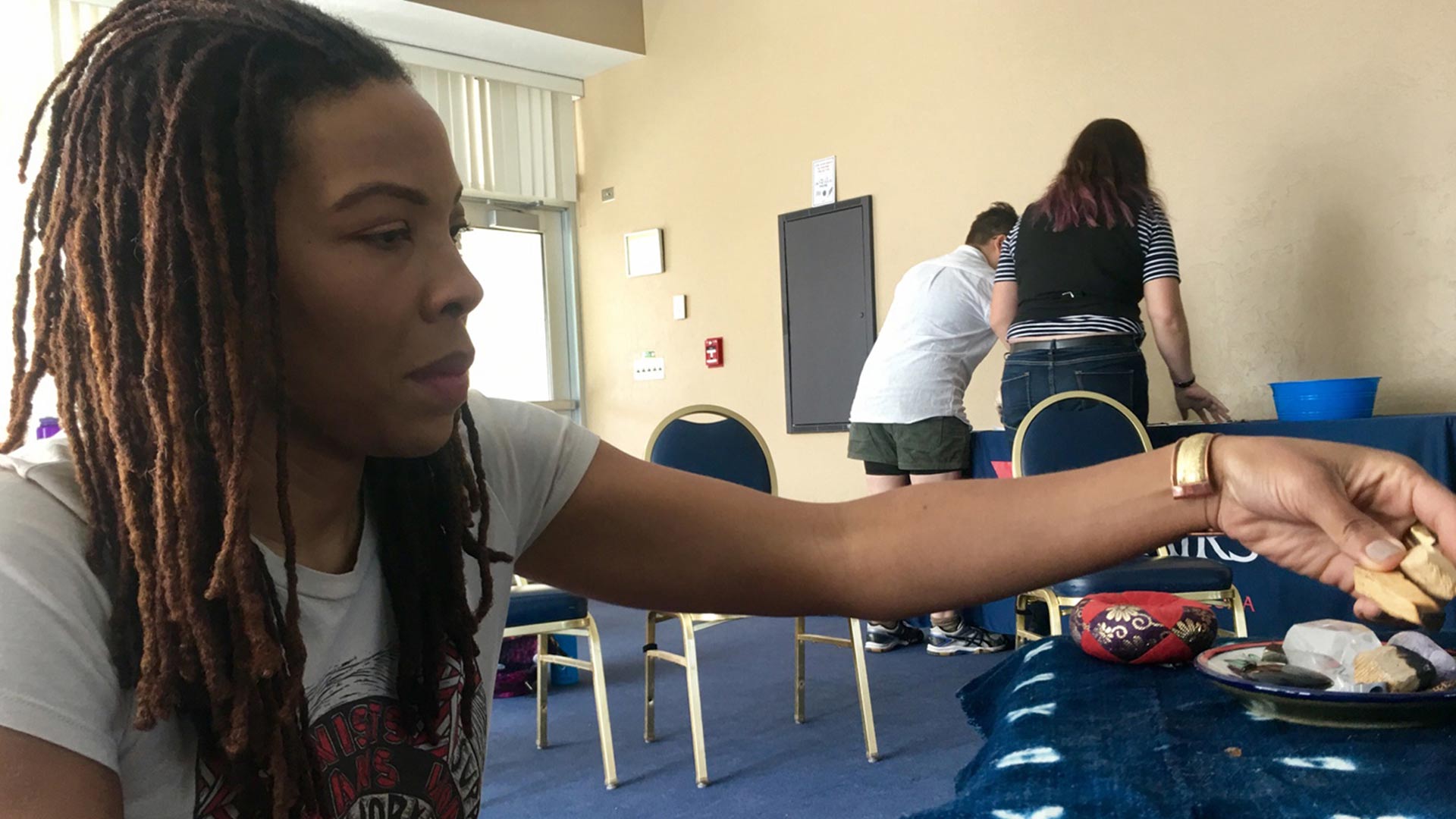 Shafeeqa Small, yoga instructor, sets up a table in the middle of the room, where incense will be burned to give students a focal point to control their breathing, at the University of Arizona, April, 12, 2017.
Maritza Dominguez, AZPM
One in four college students deals with symptoms of depression, but the majority don't seek professional help, so the University of Arizona's LGBTQ Affairs introduced students to a new way of coping with depression.
The group invited Shafeeqa Small, a yoga instructor from Dallas, to share how she practices yoga as a form of healing. Ten years ago, pain from a back injury led her to Kemetic yoga, a practice from Ancient Egypt that focuses on breath control.
"Where I was in my physical body was causing me more emotional distress," Small said. "I just wasn't able to do the things I had once been able to do and so as a result I was really drawn to the Kemetic philosophy, which focused on just breathing."
The University of Arizona LGBTQ Affairs Office wanted to provide a safe place where students could explore new methods of managing depression.
"Yoga itself secretes a number of hormones, one of them being the happiness hormone," Small said.

A recent study found that after eight weeks of yoga, adults showed significant reductions in the severity of their depression.
Yoga helps Small not only with her emotional state, but she found it more affordable than other options.
"Just going back to my back injury, if I take traditional medicine, I average about $1,000 a month in expenses just to see a doctor, with co-pays and insurance," Small said.
She found practicing yoga to be a sustainable way of dealing with depression.
Small said, for her, yoga is a tool that can be practiced anywhere or at anytime. She advises others to start with a focus on breathing, and not measure their physical capabilities. The practice is more about getting in touch with the conscious and subconscious mind, she said.
"Everything else will start to manifest itself in a really amazing way."
Maritza Dominguez is an Arizona Public Media student employee and a student at the University of Arizona School of Journalism.