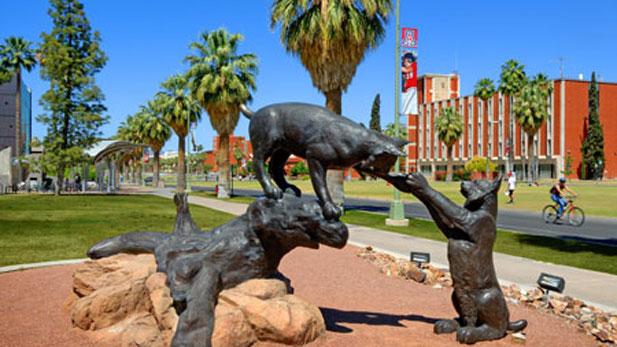 University of Arizona East mall wildcat sculpture
The University of Arizona's Spring Fling carnival starts Friday, attracting thousands who can leave lots of food and other waste behind. UA students have a plan to use it as an educational and recycling opportunity.
In the last few years Spring Fling has emphasized sustainability by teaming up with the university and a student government group called Greening the Game.
These organizations are setting up what they call "green stations" at which carnival goers can dispose of their waste.
"A green station consists of a compost bin, a trash can, and a recycling can and you'll have one or two students in a green vest manning those stations to help students and different attendees to spring fling help properly sort their waste sustainably," said committee chair Hannah Roth.
Spring Fling is a fundraiser for a wide range of UA student clubs and activities. It runs Friday through Sunday on the eastern end of the mall.