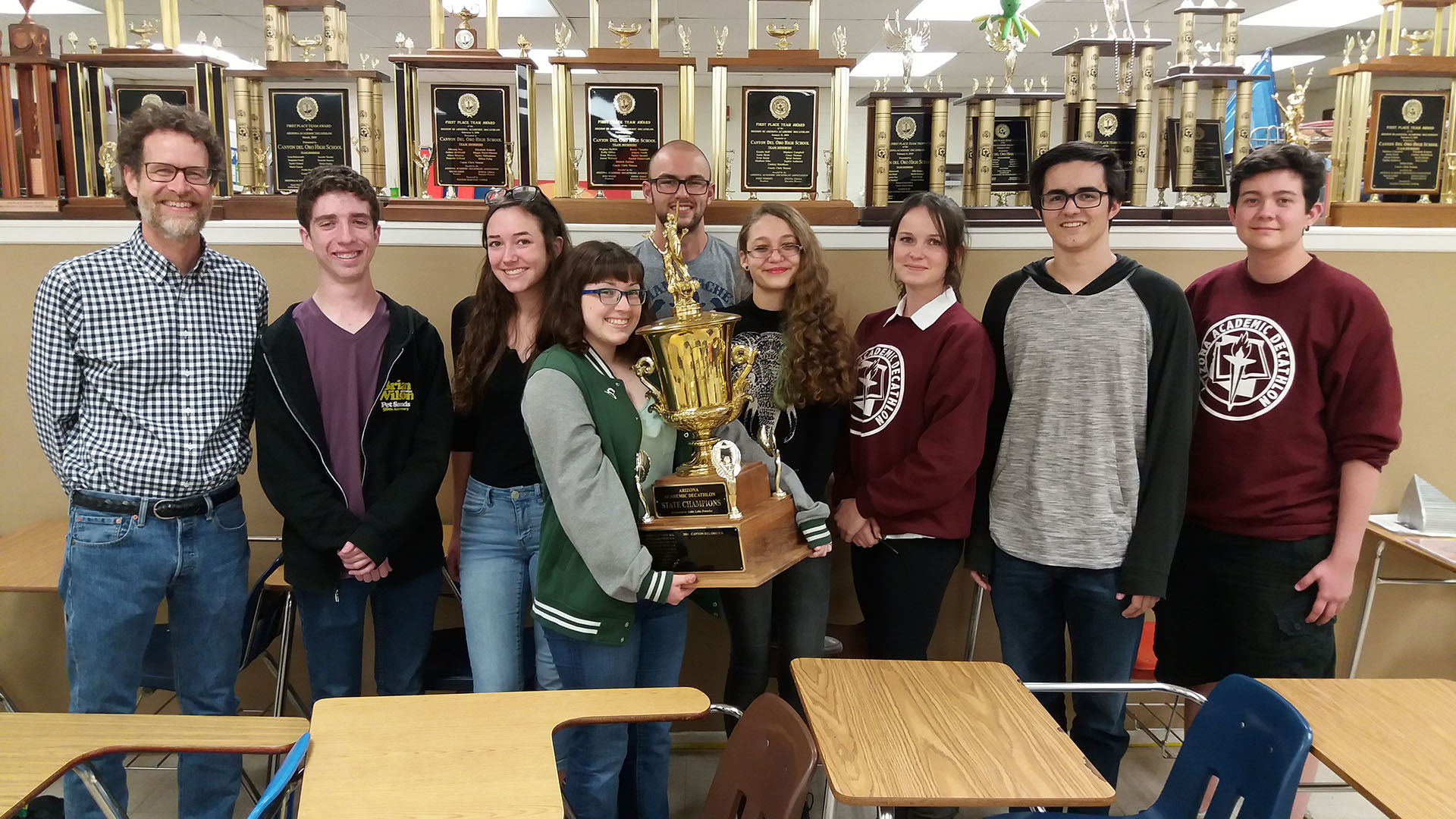 Canyon Del Oro High School's academic decathlon team, from left: Chris Yetman (coach), Brady Lybarger (senior), Chloe Penna (sophomore), Paige Dingman (senior), Albert Windes (junior), Allienna Nezelek (sophomore), Piper Gray (junior), Patrick Carswell (senior), Evan Cuillier (senior).
Michael Hernandez, AZPM
Oro Valley's Canyon del Oro High School, winner this month of its fourth straight state academic decathlon, will compete in April for the national championship.
CDO topped 40 teams at the state finals at Arizona State University in Glendale, earning the right to represent Arizona in the Academic Decathlon National Finals in Madison, Wis.
The team is a mix of "A" students, "B" students and motivated "C" students, said team member Albert Windes, a junior with a "C" average. Albert said the dynamic of the group is what makes it work for what he and his classmates call "Ac-Dec."
"We're a big group of nerds, of course," Albert said. "The 'A' students really are a motivator, a motivator for me to do well in Ac-Dec and all the rest of my classes."
The nine-member team includes three students apiece with "A", "B", and "C" averages. They compete in 10 categories, including art, science, literature, math, music, social science and economics.
Team members are interviewed by a panel of judges, deliver both prepared and impromptu speeches and write essays on a common theme. This year, the theme is World War II.
Junior Piper Gray, one of the team's "A" students, scored the second highest total in the state, 8,971 of a possible 10,000 points. She has been in academic decathlon since her freshman year and said anyone can be good at it.
"It's one of those special things where for every extra hour you put in, you do see the results," she said. "I really like the way that the competition has been structured where everyone has strengths and weaknesses that they have to work on, and everyone has something that they're good at and something that they can share."
She said the team hopes to place in the top three in the national competition April 20-22.
CDO team coach and math teacher Chris Yetman called it a privilege to coach the students and see them succeed.
"The students are all very unique individuals, but at the same time they're all very enjoyable to be around, and we learn a ton of things not only about World War II but about ourselves and our potential," Yetman said.
He said he was looking forward to the trip, a reward for his students for working hard all year.
"We get to go to an exotic place like Madison, Wis., and tour a cheese factory. I mean who wouldn't want to do that?" Yetman said, jokingly.
He said the team needs to raise $15,000 for the trip and is accepting donations.
For information on donating, contact Canyon del Oro High School, 520 696-5560.