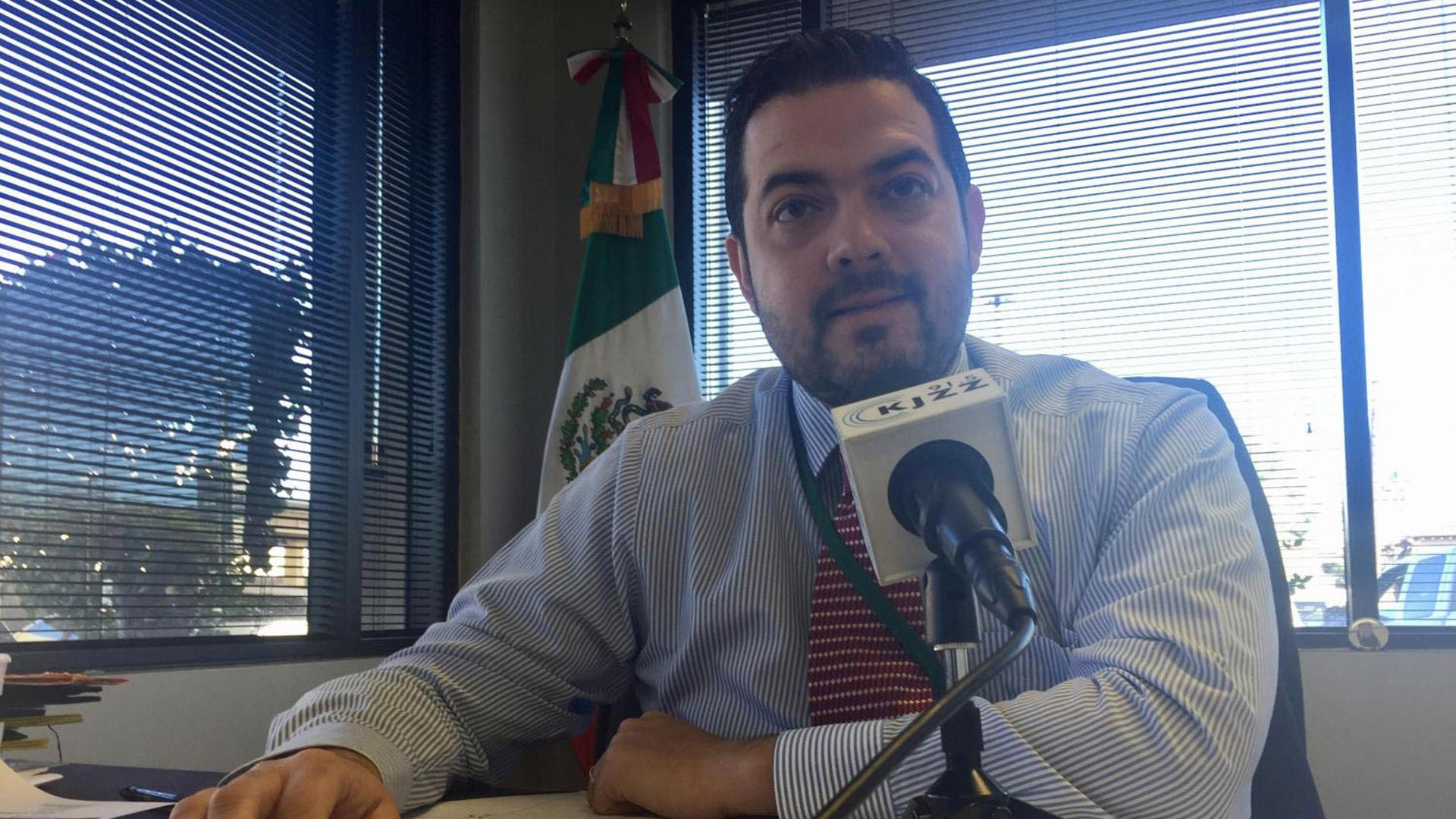 Felix Herrera heads the office of protection and legal affairs at the Mexican Consulate in Phoenix.
Matthew Casey, Fronteras Desk
A small lobby at the Mexican Consulate in Phoenix feels a lot like the Motor Vehicle Division. It's where undocumented immigrants wait for a chance to tell their story to a pro-bono lawyer. They sit in hard plastic chairs, clutch official documents and stare at posters that explain how to act if the police pull them over.
Seats were limited on a recent morning, but people kept coming in for help.
"The demand of services, it's huge," said Felix Herrera, head of the Consulate's office for protection and legal affairs. "We have limited resources of course."
Ever since President Donald Trump took office, Mexico has said it will help undocumented immigrants living in the United States. A political group recently promised to hire lawyers, and government officials have pledged to pump money north of the border.
Mexico's government has said it would send $50 million to it's 50 U.S. Consulates to defend immigrants. The size of Phoenix's slice of the pie remains to be seen. But Herrera expects it to arrive shortly.
"Very soon, very soon," Herrera said. "I think in the next few weeks maybe."
The Consulate has a program offering Mexicans legal help on criminal, civil and family court cases. For immigration, it focuses on sensitive issues like families with mixed legal statuses.
"Sometimes we receive very, very difficult cases, and we do all our effort to help them in any way we can," Herrera said.
Free legal consultations are available to everyone.
Due to demand, the program has expanded. But for the consulate to actually hire an immigration lawyer to represent someone, Herrera said they need to have a roughly 70 percent chance of winning legal status.
"We cannot give representation to a case is that not going to be (a) success," Herrera said.
The Mexican government sets policy for the Consulates, and the country's president is part of a political party that has dominated for most of the last century.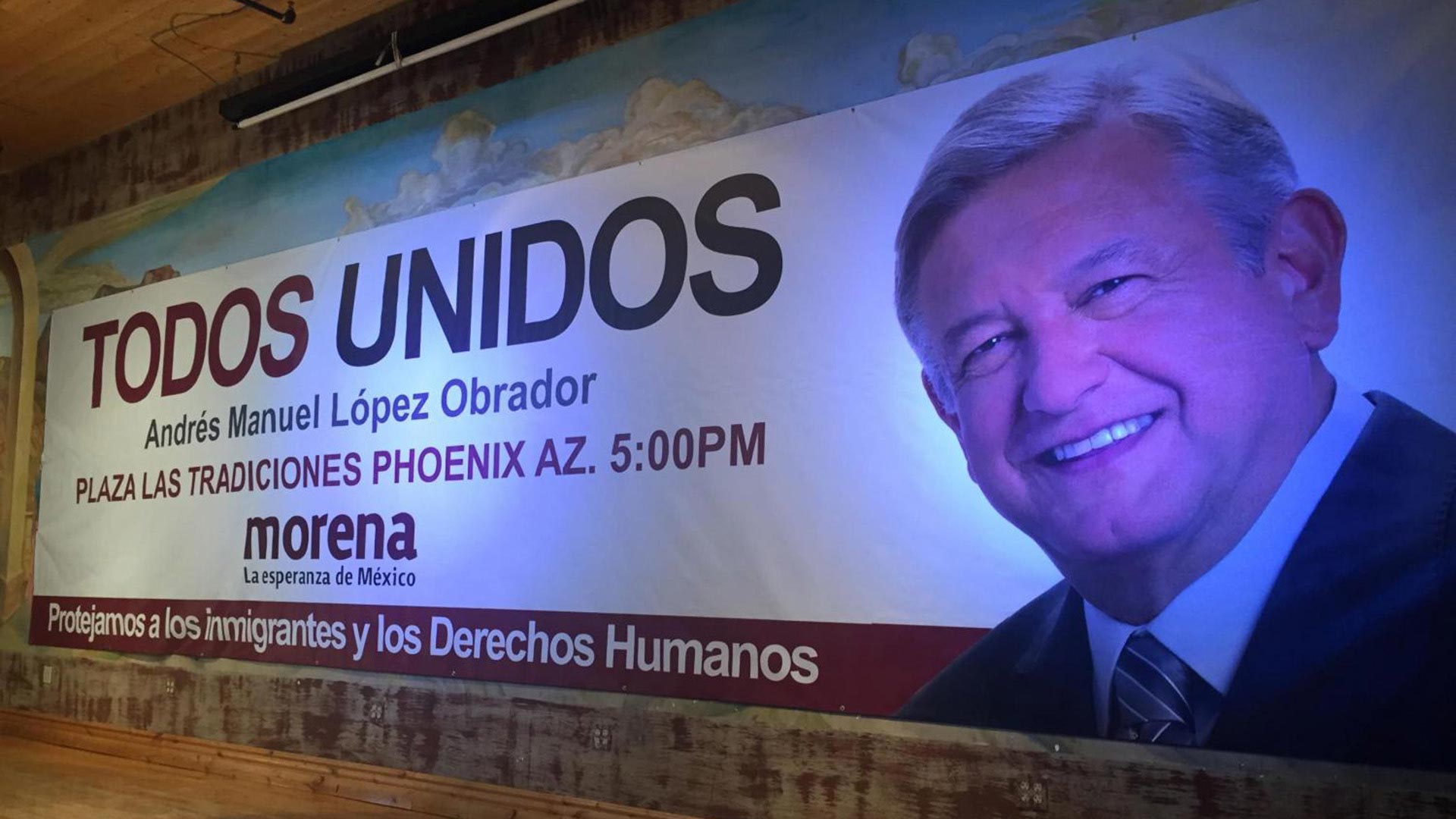 The leader of Morena, Andrés Manuel López Obrador, recently gave a speech about defending immigrants in Phoenix.
Matthew Casey, Fronteras Desk
A new opposition party called the National Regeneration Movement, or Morena, recently laid out a competing plan to defend immigrants.
Morena will hire 100 lawyers, pay them about $500 a month and spread them out in Mexico's border cities, said Alfonso Durazo, president of Morena in the state of Sonora.
"They will have the responsibility to legally assess immigrants of any nationality," Durazo said in Spanish.
Durazo wouldn't say if the lawyers will represent immigrants in U.S. courts, or just give legal advice. Hiring 100 attorneys is only the start of Morena's multi-point plan to defend undocumented immigrants, he said.
"There will be at least one committee per county in the United States to inform immigrants about their rights," Durazo said.
Morena's plan has plenty in common with the Mexican consulates' efforts. However, the two sides are not working together.
The government's promise to defend citizens facing deportation is an act of demagoguery, and the extra $50 million earmarked for the consulates will get wasted on bureaucracy, Durazo said.
"That is a scam," he said.
Morena will pay for its plan with federal money that's funneled to Mexico's political parties, Durazo said. The program will become official government policy when the party wins the presidency in 2018.
It's still going to take time to get the program off the ground, which means the Consulate will remain the best option for Phoenix residents like Oscar Diaz.
"I came over here to get some legal advice on the application that I submitted for my citizenship," he said.
Diaz entered the U.S. as a baby and has lived here for more than three decades. He works in a warehouse, has two children and is a legal permanent resident. Authorities denied his most recent bid to become a U.S. citizen.
"Because I ended up on probation," he said.
Diaz waited about an hour to see a pro-bono lawyer. He left the Consulate happy with the service he received.
"Otherwise, everywhere else they charge you $160 for the first-time consultation," he said.
Now that he's no longer in the criminal justice system. Diaz plans to reapply for citizenship. He hadn't heard about Morena's efforts to defend undocumented immigrants.
"But now that you mention it, I'm going to start Googling it and see what happens," Diaz said.
Given the uptick in immigration enforcement, people like Diaz will have to take whatever legal help they can find. This means they must hope promises by the Mexican government and Morena are more than just politically convenient rhetoric.