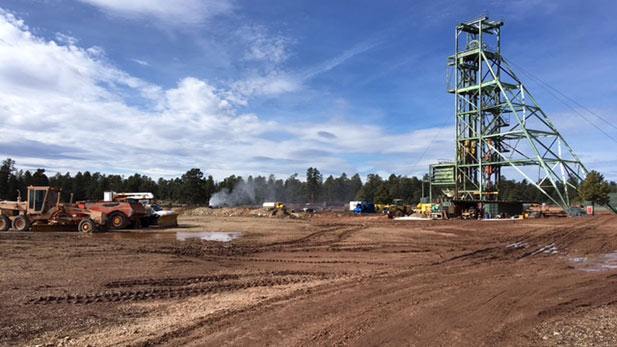 Canyon Mine is not currently operating. Energy Fuels is trying to remove the excess water from an especially wet winter. (PHOTO: Laurel Morales, Fronteras Desk)
FLAGSTAFF - A uranium mine six miles outside Grand Canyon National Park has filled with water from a wet winter, sparking concerns for an environmental group and two tribes.
Mining company Energy Fuels is pumping the water into a mist over its containment pond to encourage evaporation. The Sierra Club is worried about the mist falling on the nearby forest and a Havasupai sacred site. Energy Fuels spokesman Curtis Moore said since the company was criticized for the practice, when winds pick up they're shutting off the mist.
"They're claiming that there's contaminated water. That's a pretty loaded term to describe water you can almost drink," Moore said.
Tests showed the pond water has levels of uranium between .04 and .09 parts per million. According to the EPA, uranium levels in water lower than .03 is safe to drink.
The Sierra Club was also concerned about the water trucked across the Navajo Nation to a uranium processing facility in southern Utah.
The Navajo Nation has a law that prohibits any radioactive material. Moore said the company is using public roads.