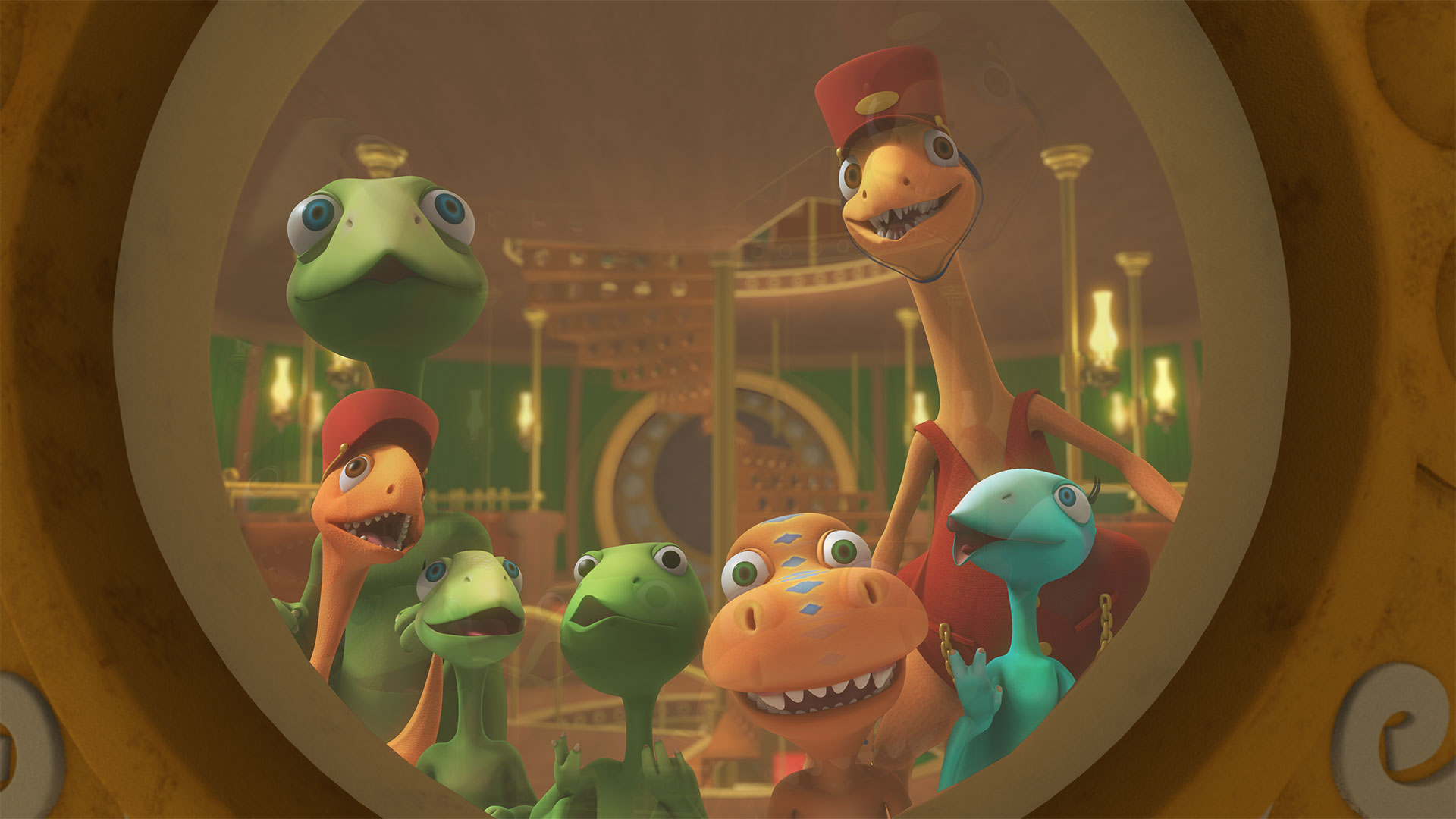 "What's at the Center of the Earth?" will focus on layers, fossils, troglobites, and minerals during a special one-hour episode.
The Jim Henson Company
Arizona Public Media will premiere an all-new one-hour special, "What's at the Center of the Earth?," on Monday, February 20 at 10:00am on PBS 6 and 3:30pm on PBS Kids 6.2.
Created by Craig Bartlett (READY JET GO!) and produced by The Jim Henson Company, DINOSAUR TRAIN encourages kids ages 3-6 to apply scientific thinking as they discover new types of dinosaur species, and to embrace the living sciences of paleontology and natural science.
In "What's at the Center of the Earth?," the Conductor has a special surprise for the Pteranodon Family: the Dinosaur Drill Train. This amazing machine gives its passengers a front row seat as they dig deep underground on a once-in-a-lifetime adventure below the Earth's surface. There, they discover a whole new world – from fossils and troglobites to rivers of lava. Along the way, the family gains a new perspective on our planet and what it's made of.
Following its premiere, "What's at the Center of the Earth?" will repeat throughout February on PBS stations and the PBS KIDS 24/7 channel and live stream. It will also be available for free on both pbskids.org and the PBS KIDS Video App, which is accessible on a variety of mobile devices and platforms.
New digital content from DINOSAUR TRAIN will include "Fossil Finder," a game that encourages kids to travel underground in the Drill Train to search for fossils. The game will be available the week of February 13th on pbskids.org and on the free PBS KIDS Games app.
DINOSAUR TRAIN airs weekdays on PBS KIDS - search the full schedule on tv.azpm.org and daily on the PBS KIDS 24/7 channel 6.2 and live stream.
DINOSAUR TRAIN is produced by The Jim Henson Company and co-produced with Singapore animation company Sparky Animation, with the participation and assistance of the Singapore Media Development Authority. The series is executive produced by Lisa Henson and Halle Stanford for The Jim Henson Company. Craig Bartlett also serves as executive producer. The Jim Henson Company oversees all ancillary exploitation of the property, including distribution, licensing and merchandising in all markets other than Asia, which is administered by Sparky Animation. PBS handles DVD distribution to North American consumer and education markets.
Kiddie Academy is a proud sponsor of DINOSAUR TRAIN ® on PBS KIDS®