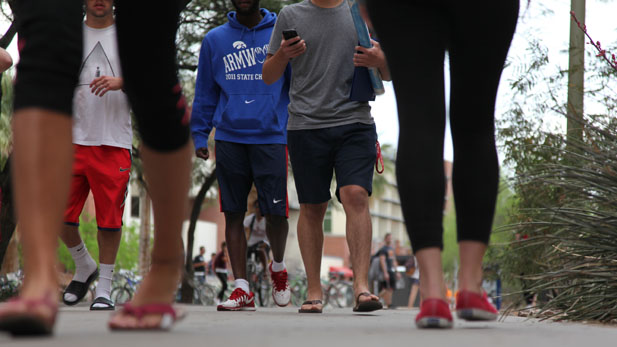 On the University of Arizona campus.

Andrea Kelly, AZPM
University of Arizona President Ann Weaver Hart released a statement opposing U.S. President Donald Trump's executive order that closes the country to refugees and people from seven predominantly Muslim countries.
In a campus-wide email, the statement cited reports of fears from the university's international community, including students who have reported they are afraid to travel abroad.
The executive order bars travelers from seven majority countries for 90 days and suspends the acceptance of refugees for 120 days.
No members of the UA community are stranded outside the US as a result of Trump's order, but there are 174 UA students, faculty members or scholars who are from the seven countries targeted, or who are in the US as refugees.
Suzanne Panferov, UA associate vice president for the Office of Global Initiatives, said the impact of the president's actions on student's lives can be far-reaching.
"Take a student who might be here on his first experience abroad and something happens, heaven forbid, like his grandmother passes, he would not be able to leave the country to attend the funeral and return," she said.
Hart wrote that officials have heard from UA students who are afraid to leave for trips abroad despite the legality of their visas.
"We are deeply concerned for the wellbeing and treatment of our foreign students, scholars, researchers and professors," she wrote. "This approach violates the principles on which international university communities of thought, learning and research are based and will jeopardize the very mission and purpose of the university."
She wrote that she believes lawsuits challenging Trump's action will be successful.
But in the meantime, the UA recommends that international students and scholars postpone trips abroad as a result of the order.
Read the statement here.