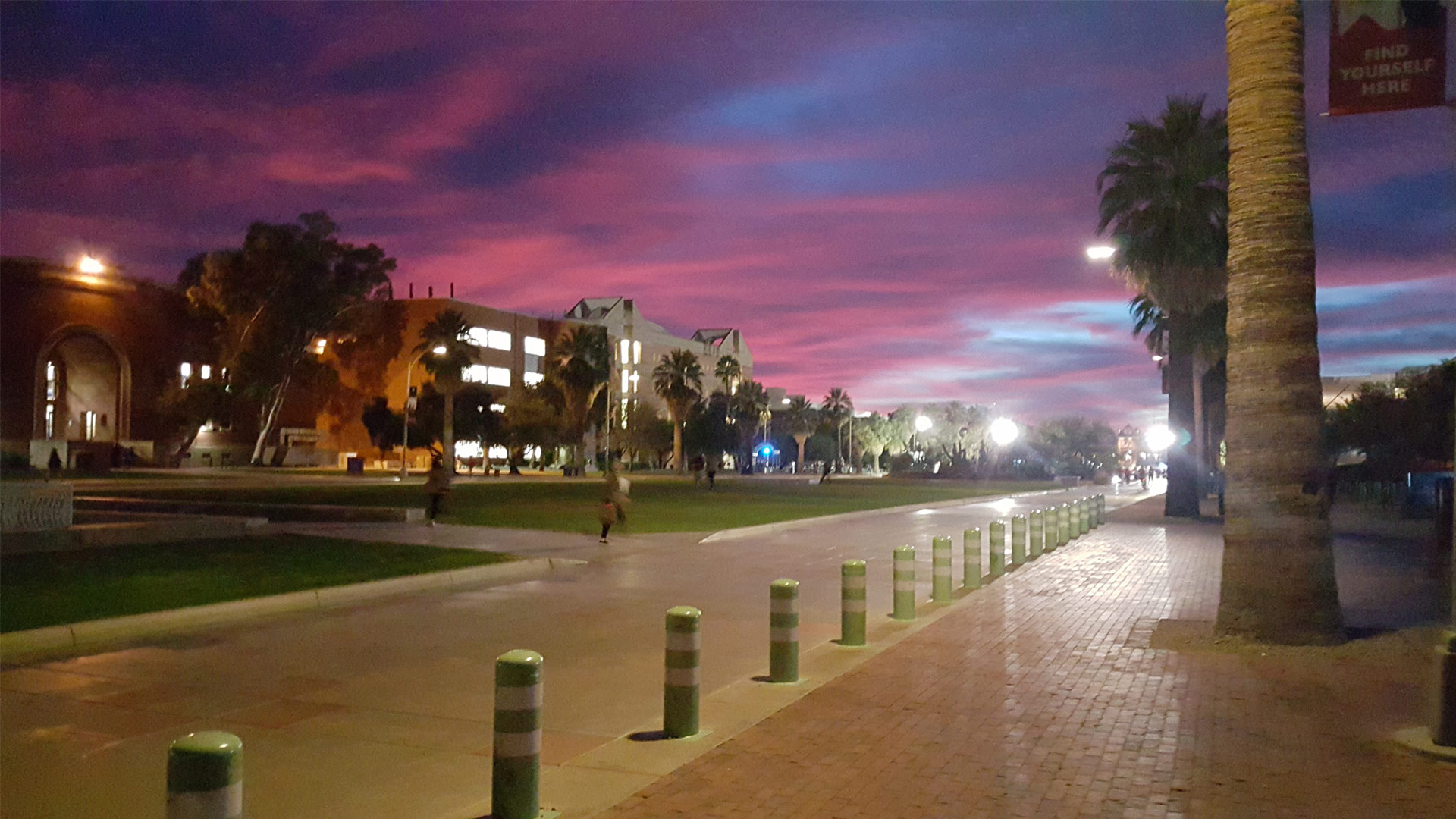 A sunset above the University of Arizona.
Featured on the January 27th, 2017 edition of ARIZONA SPOTLIGHT with host Mark McLemore:
In response to immigration policy changes announced this week by the Trump administration, Nancy Montoya visited the U.S. - Mexico border to hear some reactions. She talks with Mark about what she heard...

A section of the border between Mexico and Arizona.

AZPM Staff

The Pima County Public Library is celebrating the 5th anniversary of a program that takes books to people who want them most. Mark joins the library's Book Bike on a visit to the Armory Park Senior Center The Pima County Public Library is throwing a public party on Saturday, February 4th in honor of the Book Bike and the Seed Library...

Photo of Pima County's first Book Bike on January 30, 2012 at the Joel D. Valdez Main Library. The modified cargo bike, made by Haley Tricycles in Philadelphia, is outfitted with book shelves. Donated books are given away during appearances.

Mark talks with acclaimed artist George Winston, known for his musical sensitivity, encyclopedic knowledge of piano styles and passion for supporting causes including the Community Food Bank of Southern Arizona. George Winston performs at the Berger Performing Arts Center on Thursday, February 2nd...

Pianist George Winston and a dedicated fan.

There is more to the clock chimes heard on the University of Arizona campus than meets the ear. Dan Kruse asks some experts about their history, and the unusual properties of the chimes as they reverberate across the neighborhood...


ARIZONA SPOTLIGHT airs every Friday at 8:30 am and 6:00 pm and every Saturday at 5:00 pm on NPR 89.1 FM / 1550 AM.