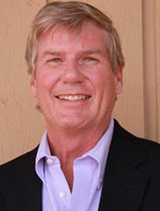 David Eppihimer, Pima County Republican Party chairman.
The Pima County Republican Party is holding events Friday to celebrate Donald Trump's inauguration as the 45th president of the United States.
The party wants to give its voters a chance to celebrate the party's national victory, said David Eppihimer, chairman of the county party.
"The Pima County GOP is happy beyond words about the results of the election of Donald Trump and his vision for our country's future," he said.
Though he has heard fears voiced about the effects of a Trump administration, he said they are unfounded. He also said he hopes those who attend the Pima County Republican Party's events do so respectfully.
"They're open to the public but we hope that people will respect our right to celebrate and will not come to be divisive or interrupt," he said.
The day starts with a breakfast at 6 a.m. at Dickey's restaurant, 7850 N. Oracle Road, and continues with a party in the evening at the Viscount Suites Hotel, 4855 E. Broadway Blvd.
"These are just our way of celebrating the win and the outlook for the future as a result of it, and the good things that are going to come to our country under Mr. Trump's leadership," Eppihimer said.
He acknowledges not everyone feels that way about the election results.
"It was a close election, and anytime there's a popular vote in one direction and an electoral vote in another, there's going to be natural division over that," he said. "We think that there's going to be four great years ahead for the country and people are going to see that Mr. Trump is going to be very good for the country."