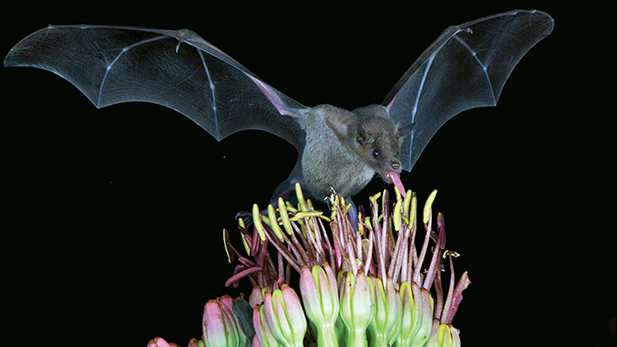 The lesser long-nosed bat is an important pollinator of cacti in the American Southwest.

Bruce D. Taubert/Bat Conservation International
The tequila in your margarita may taste a bit sweeter now that an animal critical to its production may no longer be considered endangered.
Mexican tequila producers depend on a creature called the lesser long-nosed bat to pollinate agave plants, the source of tequila.
The bat population has increased from fewer than 1,000 nearly three decades ago to more than 200,000 today in Mexico and the southwestern United States.
The U.S. Fish and Wildlife Service said the increase is sufficient to recommend the animal be taken off the federal endangered species list. If that happens it will be the first bat delisted from the list. Mexico delisted the bat in 2015.
The agency credits the tequila producers for making their harvest and cultivation processes bat friendly for the population turnaround.
The Fish and Wildlife Service also is recommending gypsum wild-buckwheat, once found only near Lakewood, New Mexico, be delisted as an endangered species. Also in New Mexico, the agency is proposing the Kuenzler hedgehog cactus be reclassified from endangered to threatened.