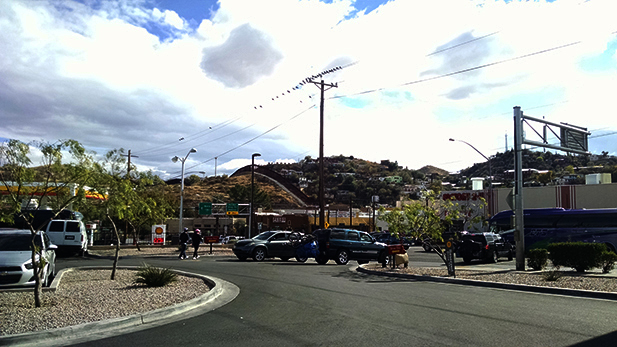 A view from Nogales, Arizona, November 2016.

Nick O'Gara, AZPM
Korean merchants have operated retail businesses on the Arizona side of Nogales for decades, some eventually forming the Korean Merchants Association. Now, economic conditions are leading many of them to close up shop and depart.

Korean business owners started moving to Nogales in the mid 1980s. At its peak, there were more than 150 Korean families. But today, says Frank Beak of the Korean Merchant's Association, that number has dropped to fewer than 40. And, he said, more than half of the Korean shops have closed.
The number of shoppers coming across from Mexico is falling, down 50 percent in the last year alone. Long lines for border foot traffic keep them away.
"Because when they come out the Arizona side, they have to wait one hour to two hours," Beak said.
Besides the lines, the devaluation of the Mexican peso and what they call unwelcoming political rhetoric are reducing the numbers, resulting in store closures. Three more shops owned by Korean families are expected to close by the end of January.