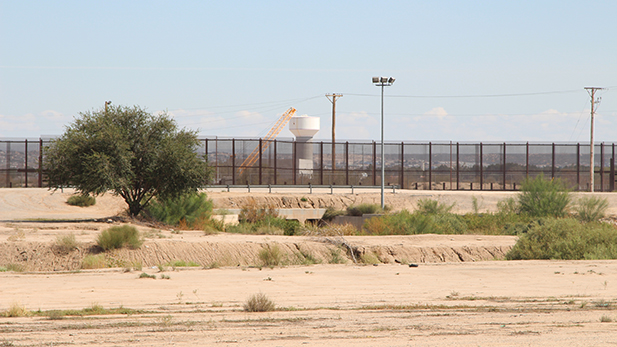 The border wall at Ciudad Juárez, Chihuahua, and El Paso, Texas, seen from the Mexican side.

Lorne Matalon, Fronteras Desk
By Lorne Matalon, Fronteras Desk
MEXICO CITY — Mexican President Enrique Peña Nieto has said he wants to work collaboratively with U.S. President-elect Donald Trump.
Peña hasn't commented on the wall publicly since the U.S. election. But his foreign secretary, Claudia Ruiz Massieu, has.
"We've been very clear on the fact that Mexico will never consider paying for a wall," she told PBS Newshour.
Miriam Grunstein is an attorney and former adviser to the Mexican Senate on energy and international law. Legislation has been proposed there that bans the use of public funds on any project that is "against the country's interest." That's widely taken to mean the wall.
"Just because of, you know, tantrums, we could really waste a golden opportunity of uniting," Grunstein said.
The proposed Mexican legislation would lead to a review of some of the most fundamental treaties between the two countries, among them the 1848 Treaty of Guadalupe. The treaty ceded Texas and California, as well as parts of Arizona, Colorado, New Mexico, Nevada, Utah and Wyoming to the U.S.
The bill also states, "in cases where the assets of our fellow citizens or companies are affected by a foreign government, as Donald Trump has threatened, the Mexican government should proportionally expropriate assets and properties of foreigners from that country on our territory."
Translated, that means that Mexico could target U.S. assets in Mexico if Trump follows through on threats to expand the wall, withdraw U.S. participation in NAFTA or stop remittances. The U.S. has over $100 billion in assets in Mexico, according to Office of the U.S. Trade Representative estimates.
Ignacio de Moral doesn't believe it will ever come to this. He supervises the federal government's economic development plans in the state of Veracruz.
"It will take years, longer than he'll be president, to build a wall," he said in Spanish. "There won't be a wall."
Even senior U.S. politicians have cast a degree of doubt on the idea.
Texas Republican Congressional Rep. Pete Sessions has said the wall is "an analogy" for fences and drones. But many in Mexico see the wall as part of a suite of political and economic threats.
Jeff Abrego is a hedge-fund manager in Mexico City. He said Mexico is wary after the U.S. election. "It's shaken the confidence here in the country - from an economic standpoint - right to its foundation, to its core," Abrego said.
The wall has become a staple on the country's talk shows. Luis Cardenas told his audience on MVS Radio that not all Americans feel the same about the issue.
"It's not the entire U.S. that wants the wall," Cardenas said on one broadcast. "Just a part."
But Mexicans are braced for some form of this campaign pledge coming true. José Arellano, who entered the U.S. illegally before returning, said one group of Mexicans wants the wall built. And that's organized crime.
"More power to the mafias," Arellano said in Spanish.
Security analyst Alejandro Hope said an expanded wall would likely mean more bloodshed in Mexico, with organized crime groups fighting for control of smuggling routes into the U.S.
"The remaining routes for illicit trafficking will become far more valuable. And that probably means more conflict on the Mexican side," said Hope, who served on former president Vicente Fox's transition team and has contacts in the Mexican intelligence community.
If the wall is substantively expanded, Hope, a former senior intelligence analyst at Mexico's civilian intelligence agency CISEN, said he believes it will also slow cooperation with the U.S. on existing arrangements on border security and immigration.
Fronteras Desk reporter Lorne Matalon is the 2016-17 Energy Journalism Fellow at the University of Texas at Austin's Energy Institute and KBH Center for Energy, Law and Business.