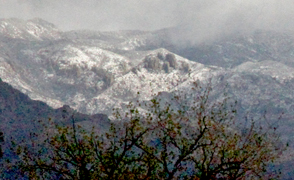 Snow on the lower ridges of the Santa Catalina Mountains (PHOTO: Mark Duggan)
A storm system is forecast to hit the Tucson area Saturday, but it will most likely bring snow only in the mountains and rain in the valley.
This is the second storm of two this week. The first brought rain to the area Thursday.
"Storm system number two will hit later in the day on Saturday into Saturday night, with a good chance of rain and snow on the mountains with snow levels falling to probably in the 3,500 to 4,000 feet range," said National Weather Service meteorologist John Gluck.
Tucson's elevation is about 2,500 feet, so unless conditions change or your home is in a loftier place, you will have to be content with looking at snow on the mountains.