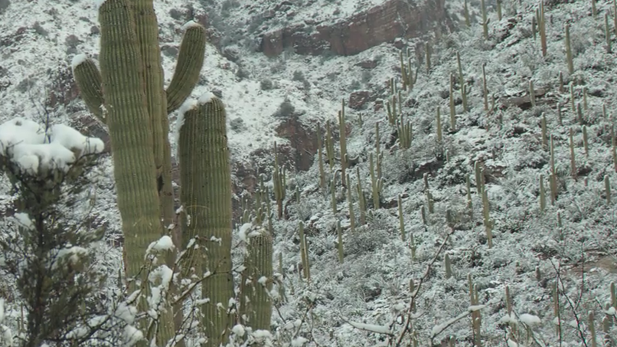 At Finger Rock Trailhead, Santa Catalina Mountains foothills, Feb. 21, 2013. (Steve Riggs)
Southern Arizonans may be able to get a taste of a white Christmas this year, at least if they look up at the surrounding mountain ranges.
A pair of storm systems will bring a strong chance of precipitation between Wednesday and Sunday. The first system will bring mostly rain with a chance of snow in the highest mountains, but the second system brings a higher chance of snow.
"There's a potential this weekend for another quick-hitting system," said Emily French, a meteorologist with the National Weather Service office in Tucson. "It should pass through a lot faster than the first one, and it's going to be much cooler. So, yeah, we could see some flakes flying Saturday night into Sunday."
French said current forecasts have the snow level above 4,000 feet, but she added that conditions could change in either direction before then.