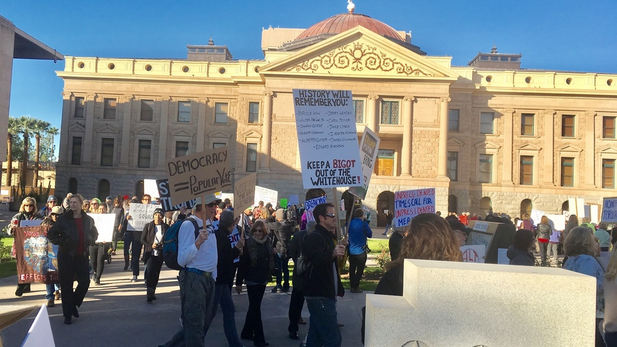 Protesters parade outside the state Capitol in Phoenix as Electoral College electors cast ballots for Donald Trump Dec. 19, 2016.

Christopher Conover, AZPM
Arizona's 11 presidential electors cast their ballots for Donald Trump Monday morning at the state Capitol in Phoenix.
The vote went as expected, after Trump won the popular vote in the state by a little less than 4 percentage points over Democrat Hillary Clinton last month.
"We wrapped up the election and put a big red bow on it," said elector Sharon Giese, state Republican national committeewoman. "And now, it is over and people have to learn to accept it just as we did four years ago and eight years ago, so that we move on."
Dozens of protesters marched outside, asking in vain that the electors choose Clinton.
The eight men and three women electors are all Republicans, as chosen by voters who selected Trump on their ballots.
The electors cast six groups of ballots called Certificates of Vote. One is sent to the U.S. Senate for the official count in January, two go to the Arizona Secretary of State, two for the National Archives and one to the presiding judge in Maricopa County.
Arizona's electors are Giese, Bruce Ash, Walter Begay Jr., Robert Graham, Alberto Gutier, Jerry Hayden, Carole Joyce, Jane Pierpoint Lynch, J. Foster Morgan, James O'Connor and Edward Robson