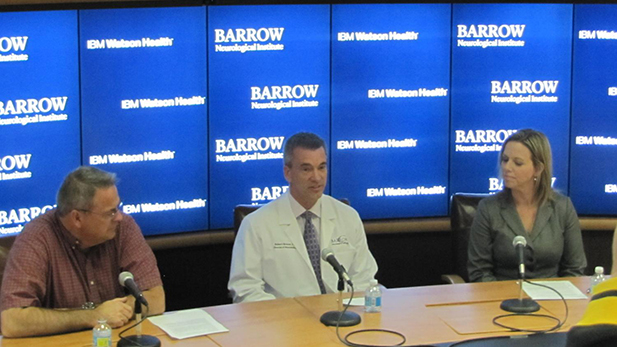 From left: Doug Clough, a Barrow ALS patient; Dr. Bowser and Dr. Moen. (PHOTO: Nicholas Gerbis, Arizona Science Desk)
Doctors are a few steps closer to finding treatment targets for Lou Gehrig's disease, also known as amyotrophic lateral sclerosis, or ALS, thanks to the first collaboration between Barrow Neurological Institute and IBM's Jeopardy-winning supercomputer, Watson.
ALS is a neuromuscular disease that attacks muscle-controlling cells called motor neurons, leading to paralysis and eventual death. It occurs mainly between the ages of 40 and 70 – most commonly at ages 60 or above – and cuts across racial, ethnic and socioeconomic lines.
Currently, no cure is known, and death most commonly occurs within three to five years from onset of symptoms.
Causal factors remain elusive – in nine out of 10 cases, no clear cause is found – and treatment options are limited.
"We only have one FDA-approved drug for this disease, and it only slows disease progression by a few months," said Robert Bowser, director of BNI's Gregory W. Fulton ALS Research Center.
ALS's capacity to strike anyone, at any time, seemingly without pattern, has puzzled researchers.
Bowser said that genetic mutations in RNA binding proteins linked to RNA metabolism hint at a possible pattern. But exploring all 1,500 genes involved would have taken his team years, so Barrow turned to the same natural language processing and pattern-recognition power that helped Watson win Jeopardy.
A few months later, when Bowser's team validated Watson's top 10 picks, the results were promising.
"Nine out of the 10 are in fact actually changed in ALS patients. And out of that group of 10, five have never been before, in any way, linked to this disease," Bowser said.
"So Watson accomplished exactly what we hoped it did," Bowser explained. "It could identify and predict things that we ourselves had no idea were linked to this disease."
Watson Health uses cognitive systems to try to more meaningfully analyze the exabytes of medical data accumulating in our increasingly digital world. According to IBM, Watson can read 200 million pages of text in three seconds.
"Traditional research tools for folks like Dr. Bowser and others are quickly becoming inadequate for the pace that the market needs, that our patients need, to be able to find discoveries and make new inferences to make differences in the lives of people," said Tina Moen, deputy chief health officer for Watson Health.
Although it is early days yet, researchers hope that the collaboration and its findings could guide future therapies and, with luck, hint at ALS's elusive pattern.