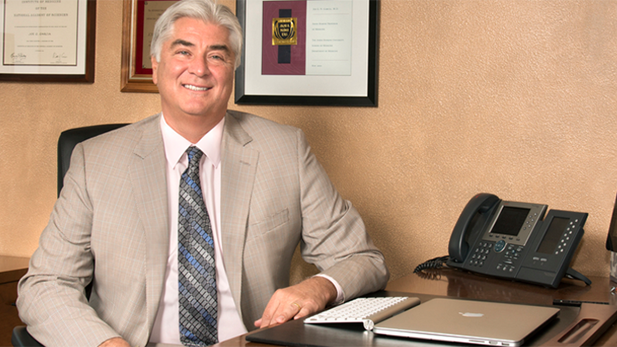 (PHOTO: Courtesy of UANews)
The administrator who oversees the University of Arizona's two medical schools and health sciences operations announced Thursday he will step down in January.
Senior Vice President for Health Sciences Joe "Skip" Garcia, informed UA President Ann Weaver Hart that he wants to leave administration and return to full-time teaching, the university said in a press release.
UA spokesman Chris Sigurdson said neither Hart nor Garcia was available for comment. Sigurdson said he would not provide information beyond what was in the press release, except that Garcia will continue to receive his $870,000 salary for two years.
Garcia, a medical doctor, said in a statement that was part of the press release that he wants to resume full-time research, clinical work and teaching.
"While I have thoroughly enjoyed my leadership role as senior vice president for health sciences at the University of Arizona, I want to pursue my first love — cutting-edge clinical and translational research and clinical care, and science-based teaching for the next generation of physician scientists and clinicians," Garcia said.
He was the object of criticism earlier this year when the UA's two medical schools came under Board of Regents scrutiny over a report from the regents president that there were financial and ethics issues in the administrative operations. After an independent investigation, the regents decided to implement closer scrutiny, while keeping the investigative report secret.
Garcia said he and his department did nothing wrong and were operating in full compliance with university policy. He said he welcomed the independent investigation, and when it was completed, said he was happy to get back to the work of the department.
The press release included a statement from Hart praising Garcia.
"The work accomplished by Dr. Skip Garcia in just three short years as the senior vice president for health sciences has had a profound impact on the future of the College of Medicine – Tucson, the College of Medicine – Phoenix, and the Colleges of Pharmacy, Nursing and Public Health at the University of Arizona," Hart's statement said.
Garcia will resume full-time faculty work in January, and the university will name an interim administrator to oversee health sciences.