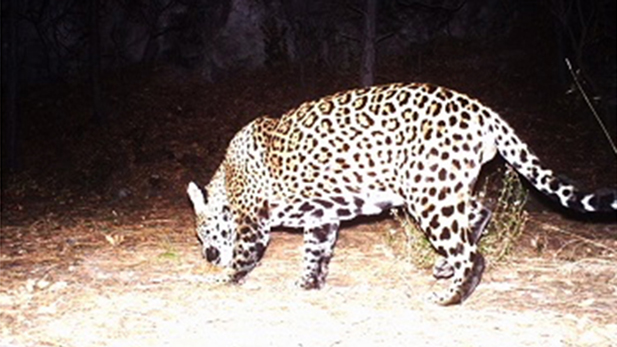 A photo of a Jaguar in the Huachuca Mountains taken on Dec. 1, 2016

Arizona Game and Fish Department
Arizona Game and Fish and the U.S. Fish and Wildlife Service on Wednesday released a photo of a jaguar taken by a military-owned camera in the Huachuca Mountains.
The camera is part of a monitoring program run by the Fort Huachuca Army installation. The image was captured on Dec. 1.
According to Game and Fish officials, early indications are that this is a jaguar that has not been photographed in the U.S. before now.
"It's exciting, but it's not surprising," said Game and Fish's Mark Hart. "We know that every five-to-10 years, a solitary male jaguar comes into southeastern Arizona and roams sometimes a huge expanse of territory, 500 square miles in one case. Why they come up is a bit of a mystery."
Hart said there is plenty of food for the apex predator in the Huachucas, but there is no proof of a female jaguar north of Mexico.
It has been some time since a jaguar has been seen in the Huachucas, according to Hart. But another species of cat has been sighted multiple times recently: ocelots.