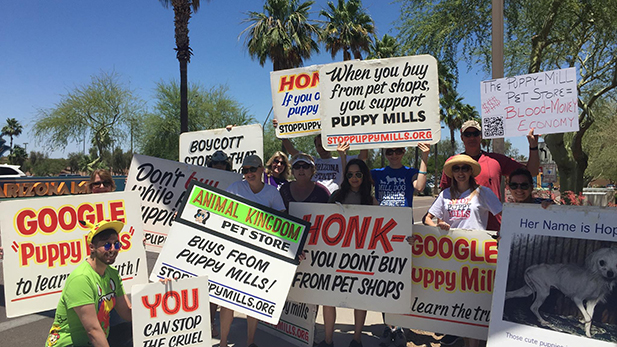 The Puppy Mill Free Arizona group, at the Arizona Mills shopping center in Tempe. (Puppy Mill Free Arizona, via Facebook)
Members of a group calling itself Puppy Mill Free Tucson plan to protest outside the Tucson mall every weekend through Christmas, urging shoppers to boycott the Animal Kingdom store, where they say dogs bred in so-called "puppy mills" are sold.
"Many of these animals are inbred," said group spokeswoman Nancy Young Wright, "so consumers can pay thousands of dollars for an animal that's going to have genetic problems that cost them a lot of money and bills and then heartache down the line."
According to Wright, the Arizona Legislature did more harm than good when it passed a bill this year regulating pet store sales and stopping local communities from banning such sales.
Animal Kingdom spokeswoman Linda Nofer disagreed, saying the new law requires stores to disclose where their animals came from.
"When you buy a puppy from the pet store, that's the only place forced to be transparent about the breeder, about where the puppies come from, about whether or not the breeders have any USDA violation," Nofer said.
Both Wright and Nofer said people should first go to a local shelter if they're simply looking for a family pet and not a pure-bred puppy. They also agreed that it's wise steer clear of online pet sellers, because there's no telling what you might get.