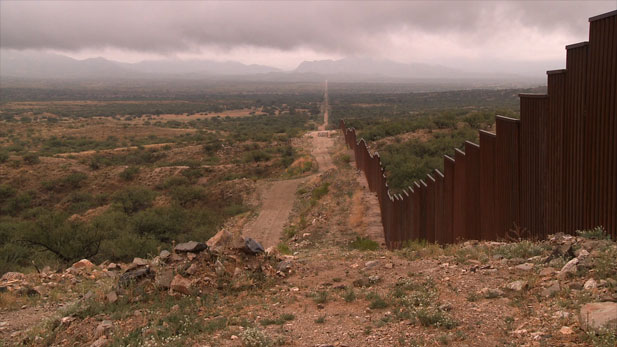 US-Mexico border

azpm
For three Tucsonans who spend time making overtures to businesses and entrepreneurs in Mexico, recalling their last flight to Mexico is not difficult.
In fact, one of them is there right now. Bruce Wright, the Associate Vice President for Tech Parks at the University of Arizona, is in Hermosillo for a conference.
"We'll be meeting with our colleagues and partners in Mexico and Sonora discussing ways to support each other," he said.
The conference is a meeting between the Arizona-Mexico Commission and its counterpart, the Comisión Sonora-Arizona.
"Our Mexican counterparts are very concerned about what may happen, but it is going to be an anti-Mexican mood within the United States, whether major provisions of the NAFTA agreement will be modified or repealed, and what's going to be the impact on immigration," said Wright.
Tucson Mayor Jonathan Rothschild was supposed to start his week in Mexico visiting the mayor of Obregón, but travel plans changed when Rothschild was offered a chance to meet with the Mexican Ambassador to the U.S.
"What [the ambassador] talked about was the need, really, to change the perception of the American people about what the Mexican-American trade agreements mean," said Rothschild. "He says one way that that can be done is to show the great benefit that the American people are getting from those trade agreements now."
Rothschild has worked to convince Mexican startups that Tucson could be a good place to do business, and those efforts led to a meeting with former Mexican President Vicente Fox.
Fox is now focused on furthering entrepreneurship in Mexico.
"I think that's something that we're well positioned for here with the University of Arizona, with Pima College. It's what President Fox and I discussed several weeks ago, and Mexican President Fox has promised to bring a program of Mexican startups here to Tucson," said Rothschild.
About a year ago, Rothschild enlisted the help of Startup Tucson Founder and CEO Justin Williams in this effort. He introduced Williams to the head of an organization that is similar to his in Mexico City, Startup Mexico.
"Since then, I've taken a trip down to Mexico City myself met with Startup Mexico, and they've come up here and we've begun working on a framework for a partnership," said Williams. "Our partnership would be to identify the top sorts of companies and projects that exist in their network and bring them to Tucson as a sort of seedling companies to be able to scale and grow jobs here in Tucson."
UA Tech Park is also engaging in similar efforts, and has had some success.
"We're trying to attract fast-growth Mexican technology companies in the park, and we've recently just successfully done that with a new company out of Hermosillo," said UA Tech Park's Bruce Wright. "They just opened up their operations this week at the Tech Park. I think they're still interested in coming into the U.S. market, but I think they also are going to be cautious."
Wright said Mexican companies are often concerned with whether or not the relationship between the U.S. and Mexico is stable enough for their company to thrive in Arizona.
"Business likes certainty. It likes to know what the rules of the game are. It needs to understand that companies can deliver the product on time at a certain cost," he said.
Rothschild said he is optimistic about the future of U.S.-Mexico relations because he thinks much of what President-elect Donald Trump said while campaigning was just tough talk.
"Rhetoric is easy. Actions are a lot harder," he said.
And even if policies that could damage trade move forward, he thinks they will quickly be reversed.
"When a policy is made that is economically wrong, the consequences are not long in coming and then of course the policy changes again."
Things will not get that far due to intervention from the top of Arizona's government, Wright said.
"The governor being a supporter of President-elect Trump may be helpful to us because one would hope that the governor would have a voice in the new administration."
Investment in Arizona-Mexico trade is starting to pay off.
"As a logistics hub, the flow of commerce across the border, we're starting to see the investments that have been made over the last couple of decades starting to really come together," said Startup Tucson's Williams.
And Mexico is growing into one of the top economies in the world - an economy that has the 15th highest gross domestic product in the world. Estimates from the International Monetary Fund and the World Bank place the figure above $1 trillion annually.
"They become a new kind of partner for the U.S. different than what I think the last 30 years have looked like," said Williams. "It becomes an opportunity to sell into Mexico in ways that perhaps were more limited in the past."