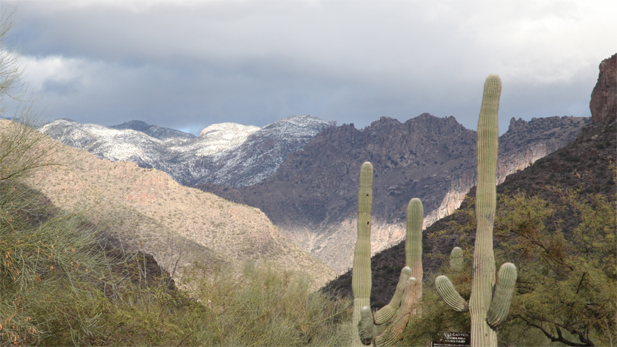 Snow forms the backdrop for a winter scene at Sabino Canyon.

Mark Duggan
Forecasters at the National Weather Service predict a weak La Niña will cause Southern Arizona's winter to be drier and warmer than normal.
The weather phenomenon occurs when a band of the Pacific Ocean near the equator has cooler-than-normal water temperatures, which causes storm systems to head north of the area.
There have been 11 weak La Niña winters since 1950, nine of which had rainfall below Tucson's current average for December through March of 3.46 inches.
While mild winters can be enjoyable, they can impact conditions in Southern Arizona in successive seasons.
"In the longer term, impacts from a warm and dry winter include the possible development of drought and/or dangerous fire weather conditions, especially as spring approaches," said National Weather Service Meteorologist Ken Drozd.
Drozd said hazardous winter weather is still possible in years that are drier and warmer than normal. Such hazards include freezing temperatures, high winds and periods of heavy rainfall.