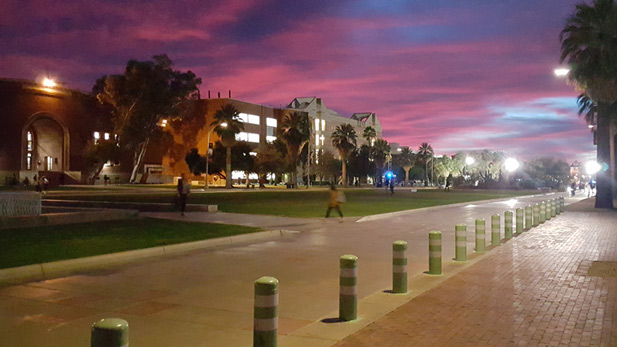 Students walk across the UA Mall as the sun sets in the background. Photo taken December 10th, 2015.

AZPM Staff
Enrollment at Arizona's three public universities grew more than 5.3 percent this year, according to a report from the Arizona Board of Regents.
"To put that 5.3 percent in context, the state's population is growing less than 2 percent on an annual basis right now," ABOR Director of Institutional Analysis Dan Anderson said in a call with reporters Tuesday.
But enrollment growth varied drastically between campuses.
Arizona State University grew the most, at more than 7.5 percent, followed by Northern Arizona University at 4.4 percent.
The University of Arizona, on the other hand, recorded the lowest growth, up 1.2 percent to 43,625 students.
UA Dean of Undergraduate Admissions Kasey Urquidez said data from one year to the next is not terribly helpful in understanding what's happening at the school. She said since 2010 the campus population has grown by 11 percent.
"And so we've been on a trajectory that's actually where we want to be and what we want to do and know that we have lots more growth that we will be experiencing over the next few years," she said.
UA has a goal to increase overall enrollment by more than 50 percent between 2015 and 2025.
Urquidez said the school is on track to reach that target despite slower enrollment growth this year.