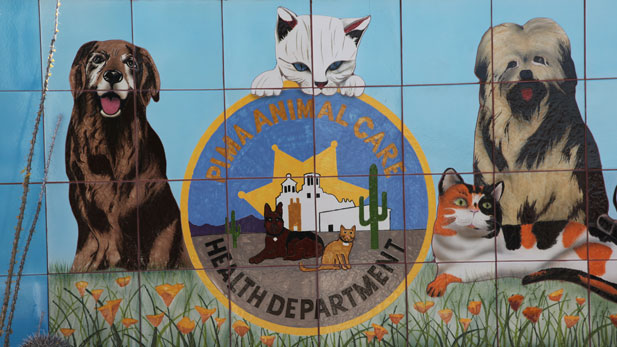 Mural outside of Pima Animal Care Center (PHOTO: Robert Rappaport)
The Pima Animal Care Center will temporarily stop accepting animals brought in by their owners and suspend onsite adoptions due to an outbreak of illness among dogs at the shelter, according to county officials.
Seven dogs have come down with Canine Distermervirus or distemper, five with Streptococcus equi zooepidemicus (Strep zoo) and one has been diagnosed with both diseases. Distemper and Strep zoo are highly contagious and can be deadly in dogs, but neither presents a risk for humans.
Outbreaks like this are common in shelters, Pima County officials said, and a very low rate of vaccination in the county probably exacerbated the spread.
"One of the things that a shelter would do under these circumstances might be to kill off all their animals. That is not what we are doing here. That is not an option that we are even considering," said Francisco Garcia, Pima County director of public health.
Four dogs have already died, said Chief Veterinarian Jennifer Wilcox, and all animals in the shelter are being tested and closely monitored.
"We've taken measures to isolate our entire population, which we're now considering exposed." Wilcox said, adding, "The vast vast majority of our animals look good, but those that look sick are getting intensive medical care and are responding really well."
Healthy dogs are being transferred to a boarding facility for temporary shelter.
Garcia said the decision to halt cat surrenders was made out of an abundance of caution but all the shelter's current cat population is healthy and shows no sign of strep zoo.
Animals housed at offsite locations like PetSmart locations are still up for adoption, and a long-planned outreach and adoption event at the Tucson Spectrum PetSmart will take place as scheduled on Saturday.
Normal operations at the shelter are expected to resume in about two weeks.