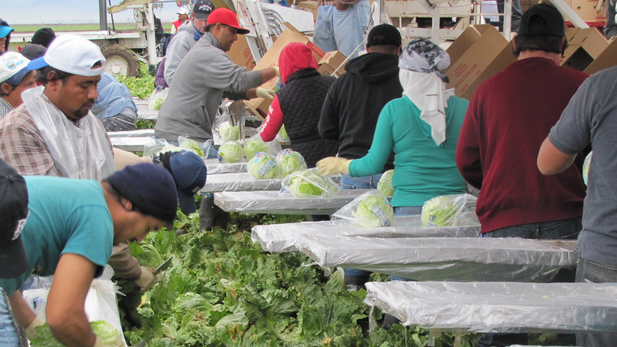 Field workers harvest lettuce in Yuma, February 2015.

Kate Sheehy, Fronteras Desk
Voters in Arizona have chosen to raise the minimum wage to $12 and make changes to the requirements for paid sick time for workers.
Proposition 206 takes the current state minimum wage of $8.05 and increases it to $10 in 2017, and then incremental increases continue until 2020.
Under the measure, workers at certain businesses would earn one hour of sick time for every 30 worked, and conditions that qualify for sick time are broadened to include mental illness and taking care of a family member, the Associated Press reported.
Among its proponents was U.S. Secretary of Labor Tom Perez, who says it is time to make sure people earn a living wage.
"I meet so many people working on a full time job and living in poverty. The basic purpose of the fair labor act, which passed the minimum wage, is that nobody working a full-time job should have to live in poverty."
Many business leaders opposed the initiative, saying it would profoundly affect especially small operations which would be forced to close or limited in growth. Garrick Taylor of the Arizona Chamber of Commerce and Industry said it will hurt everyone, including workers.
"This is a big impact that can't be easily absorbed. And the idea that you can just raise prices to reflect these increased costs – how does making things more expensive help the very people the proponents claim to represent?"