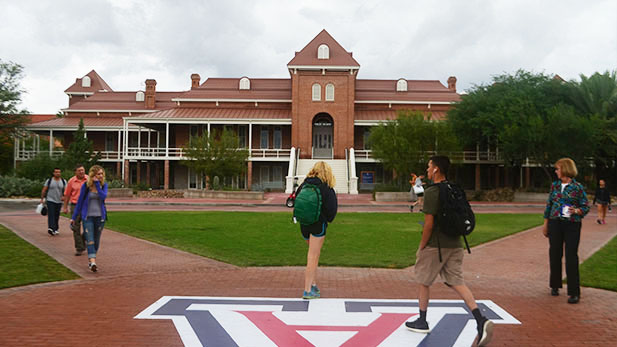 University of Arizona students walk by the Old Main. (PHOTO: Maria Inés Taracena, AZPM)
The University of Arizona has reached a $1.5 billion fundraising goal, two and a half years after going public with its Arizona NOW capital campaign.
Quiet fundraising efforts began six years ago.
A recent $2.5 million gift from Peter and Nancy Salter for the Center for Management Innovations in Healthcare at the Eller College of Management pushed the university past its target.
UA Foundation president John-Paul Roczniak said the current fundraising push will continue until the end of 2016.
He highlighted several multi-million dollar contributions to Arizona NOW, including a $50 million gift from the Agnese Haury Foundation and two separate $20 million donations to the music school and the mirror lab.
"Those are just transformative gifts here at the UA."
But he said much smaller gifts have also been significant.
"It's the person who gives $50 and $100," he said. "It's the person at the university who does $1.25 taken out of their paycheck so kids can have financial aid to be able to come to the university. Those are the things that really stand out and make this campaign special."
According to UA Foundation Senior Vice President Barry Benson, the UA's previous capital campaign raised approximately $150 million per year, versus the current average of $218 million per year.
This campaign may be wrapping up, but fundraising efforts will continue.
"The need for private support to the university is only increasing," Roczniak said.