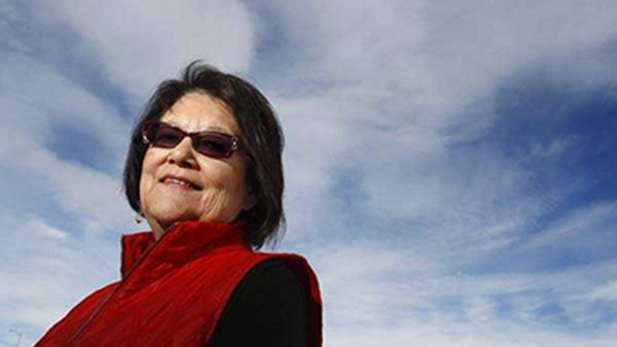 In 1996 Elouise Cobell, a member of the Blackfeet Tribe and an accountant, filed the historic class-action suit alleging the federal government mismanaged trust funds of more than 500,000 American Indians. Congress ratified the settlement in 2010. She died a year later. (PHOTO: Courtesy of the University of Montana)
Fronteras Desk
In the 1800s, the federal government divided tribal-owned land into smaller parcels and handed them out to individual American Indians. That land was placed in a trust and leased to settlers who then used the land for logging, mining and oil drilling. The royalties weren't always shared with the American Indian landowners.
In 1996, Elouise Cobell sued the Interior Department. A settlement was reached in 2009 and approved by Congress and signed by President Obama in 2010. Part of that settlement was a $1.9 billion land buy-back program. Interior Deputy Secretary Michael Connor recently gave an update on the program.
The federal government has paid $900 million so far to willing American Indians as part of the Land Buy-Back Program. Connor said it's an effort to help tribes — mostly in the West — consolidate their fractionated parcels of land and restore tribal sovereignty.
"Consolidation of tribal land has allowed the program to restore the equivalent of nearly 1.7 million acres of land to tribal government," Connor said. "Tribal ownership is now greater than 50 percent in 11,000 separate tracts of land."
The Interior Department has made agreements with 37 tribal nations including the Navajo, Hopi and Tohono O'odham. Tribal governments decide what to do with the now-consolidated land.
The Crow Nation is building a new water plant in Montana. The Spirit Lake Tribe in North Dakota is building affordable housing and expanding their grazing area for buffalo.
Connor said the agency is reaching its program goals but fractionated land is an ongoing issue.
"Fractionation will continue to be an extremely complicated ongoing problem in the long term," Connor said. "We know and we've known from the start that the consolidation fund created by the Cobell settlement will not be sufficient to purchase all fractionated interests across Indian Country."
Interior Secretary Sally Jewell has directed the Oversight Board to analyze options to extend the program's life. The agency will have a listening session with tribal leaders to discuss long-term management of trust land in the spring of 2017.