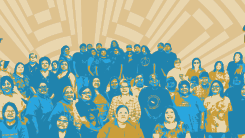 Many young Tohono O'odham won't be able to vote in the coming election unless they do it early, tribal leaders have said, and the nation has organized a "Get Out the Vote" effort.

Tribal voting officials estimate that up to three-quarters of young people between the ages of 18 and 25 living on the nation will not be able to vote on Nov. 8 because they have only tribal identification cards with no addresses.
Young voters there will also need another form of ID with a printed address, said Gabby Cezares Kelly from Tohono O'odham Community College, but many young Tohono O'odham don't have permanent addresses and often live with friends or relatives.

One solution is to vote early, as no ID is required.
"They actually don't require you to bring in a photo ID at all. They actually verify your identity by your signature," she said.
In the next two weeks, several sites will be set up for early voting on the Tohono O'odham Nation. Explore the list of early voting locations.
Tribal Get Out the Vote volunteers are setting up early voting stations in the following locations:
Oct. 25 - Baboquivari High School
Oct. 26 - Santa Rosa Multi Purpose Building
Oct. 27-28 - San Xavier Council Chambers
Oct. 31-Nov. 4 - Sells Legislative Chamber
Student reporters from Baboquivari High School contributed to this story. Learn more about the school's PBS NewsHour student reporting lab.