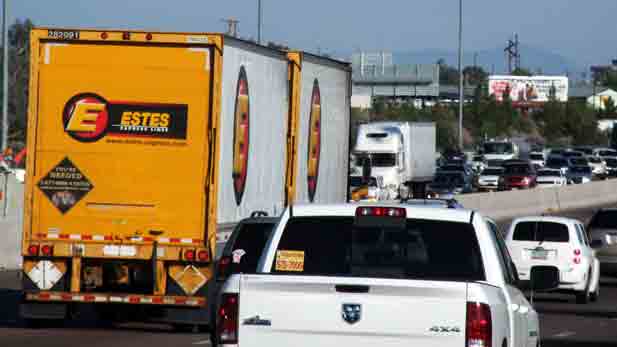 Interstate 10 traffic jam.
The Arizona Department of Public Safety will likely be a bit tougher on certain kinds of driving through the rest of this week.
The agency said it's paying extra attention to highways that have above-normal levels of commercial truck traffic, in an effort to head off potentially dangerous situations.
In the Tucson area, "Operation Safe Driver" will cover Interstate 19 and parts of Interstate 10.
"Our aim is to educate private drivers about how to drive along highways where there's heavy commercial semi-truck usage," said DPS spokesman Bart Graves.
Graves said ensuring that car and truck drivers alike are informed of the proper manner to interact with each other is important because the state is seeing more commercial truck traffic than ever before.
"Commercial vehicles are sharing the road with private vehicles, and there's more and more of them, and they're all vying for that highway space," he said.
Officers will be on watch for problematic drivers in either commercial or private vehicles with plans to stop traffic-law offenders and issue either a warning or a citation.