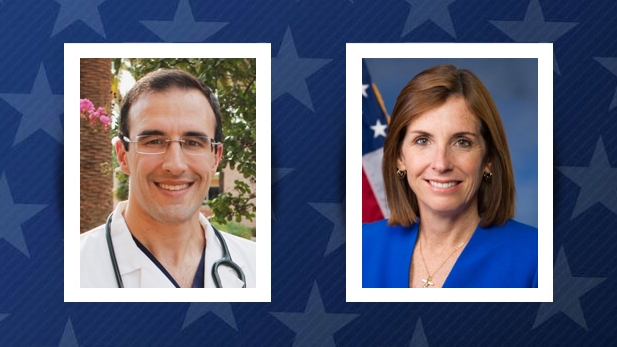 Arizona's 2nd Congressional District is the classic competitive landscape in U.S. politics. It has gone from Republican to Democrat to Republican over the last five elections. This year it looks to be competitive once again.
The district comprises Cochise County and parts of Pima County. It is a combination of rural and urban. Politically it is split nearly evenly between Republicans, Democrats and independents.
The district borders Mexico, which makes immigration and border protection local issues.
Republican incumbent Martha McSally said the Border Patrol needs a better strategy.
"They admitted they have real-time situational awareness of about 56 percent of the 200-mile southern border," said McSally
She said she wants more intelligence-driven operations on the border, "to track the activities as close as possible south of the border and to move the strategy to be more focused at the border," McSally explained.
The border cannot be looked at in a vacuum, said Democratic challenger Matt Heinz.
"You look at, of course, security because of course one of the things we have to do is make sure we defend the nation's border," said Heinz.
At the same time, he added, any consideration of border security and immigration has to account for people already in the country illegally.
"Looking at the 11 to 12 million people who are aspiring to be American citizens who want to pay taxes and working on a way to bring them into the fold," said Heinz.
The candidates stand on very different ground regarding health care. According to Heinze, the Affordable Care Act is not perfect, but it has helped.
"It has allowed for millions of Americans and hundreds of thousands of Arizonans, many right here in Southern Arizona, to get access to a doctor or a nurse practitioner."
He said that saves money because doctors and hospitals do not have to treat acute cases.
McSally is no fan of the Affordable Care Act.
"The Affordable Care Act is collapsing under its weights," she said, adding that she has worked to change the program and more changes are needed.
McSally lost the 2012 race for the seat by 2,400 voters. Two years later, she won by 167 votes after a legally mandated recount due to the closeness of the race.