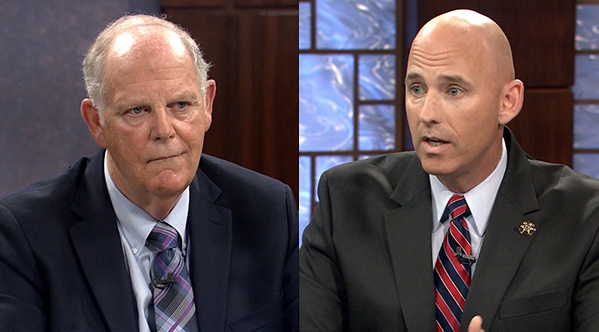 Republican Pinal County Sheriff Paul Babeu is facing Democrat Tom O'Halleran, a former state legislator from Flagstaff, in Arizona's 1st Congressional District.
The tenth largest in the United States, the district stretches from Tucson's northern suburbs to the Utah border. It includes Flagstaff and all or part of 10 Indian reservations and touches on 11 of Arizona's 15 counties.
The district does not include the Arizona-Mexico border, but immigration and border security are always issues in Arizona.
Babeu has made a name for himself nationally as a border hawk.
"I'm for enforcing the law, securing the border and protecting America. I don't feel our nation is more secure or more safe than it was eight years ago," said Babeu.
O'Halleran also has a law enforcement background. He was a Chicago police officer and investigator in the 1960s and '70s. When it comes to border enforcement, he wants to rely on experts.
"You find the money in Congress, which is what the Gang of Eight did - $6.5 billion. You develop a security structure at the border or other ports of entry and you secure the border using the best technology and best experts available," O'Halleran said.
Taxes and the economy are also large issues in the race for the 1st Congressional District, as they are in nearly every other race in the country.
Babeu said the problem with government is it has become too large and too costly.
"Evidenced by a $20 trillion deficit. We've got to cut spending. We can't continue to think that we are going to spend our way tin prosperity or tax our way. That has failed," said Babeu.
O'Halleran, on the other hand, wants investing for the future to be a top priority.
"I'm not going to haphazardly cut across the board when we have education issues that deal with addressing our infrastructure needs, addressing the security of our nation," said O'Halleran.
He also said government must live within its means.
Both candidates face some controversy. Babeu was headmaster of a school for troubled children in Massachusetts. Accusations of abuse were leveled at the school. Babeu said he was cleared of any wrongdoing, but the issue has been brought back up during the campaign.
O'Halleran has been accused of being a political opportunist. When he was a member of the Legislature he was a registered Republican. He then became an independent and then a Democrat just before this campaign.
One's political party should not matter, O'Halleran said, but rather the election should be about ideas.