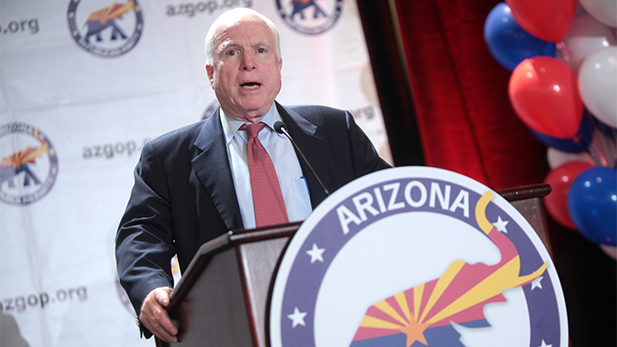 Gage Skidmore
U.S. Sen. John McCain withdrew support Saturday for fellow Republican Donald Trump for president, reversing what had been consistent backing of the party's nominee.
McCain, who is in a close race for re-election against Democratic U.S. Rep. Ann Kirkpatrick, said in a statement that he and his wife Cindy will vote neither for Trump nor Democrat Hillary Clinton. Instead, he said, they will "write in the name of some good conservative Republican who is qualified to be president."
Other Arizona Republicans also were critical, including U.S. Rep. Martha McSally of Tucson who tweeted Friday that "Trump's comments are disgusting. Joking about sexual assault is unacceptable. I'm appalled."
McSally maintained her campaign-long silence on whom she would support for president. Patrick Ptak, her campaign communications director, said Saturday in an email: "She has repeatedly stated that she feels who she votes for is between her, God and the ballot box."
In the email, Ptak pointed out that in the past, McSally "has vocally expressed her concerns about his (Trump's) statements relating to women, minorities, POWs, Gold Star families and others. Those statements stand."
Arizona's other senator, Republican Jeff Flake, also tweeted his dissatisfaction, saying, "America deserves far better than" Trump. Flake has consistently said he will not support Trump for president.
All were reacting to the Washington Post's revelation Friday of a 2005 videotape in which Trump used vulgar language about women, including what some called sexual harassment and hints at sexual assault.
In a statement emailed to news media outlets Saturday afternoon, McCain said:
"Donald Trump's behavior this week, concluding with the disclosure of his demeaning comments about women and his boasts about sexual assaults, make it impossible to continue to offer even conditional support for his candidacy. Cindy, with her strong background in human rights and respect for women fully agrees with me in this."
Kirkpatrick, who has derided McCain throughout the campaign for what she said were more than 60 pledges of support by the senator for Trump, also issued a statement Saturday, calling McCain's withdrawal of support "too late."
"John McCain showed today he only cares about one thing: his political career," Kirkpatrick said in a statement emailed to news media outlets. "His decision is nothing more than a political calculation. It's been more than 24 hours since Trump's comments were released. If it takes a full day for McCain to decide something is inappropriate, then he clearly doesn't have the leadership Arizonans need."