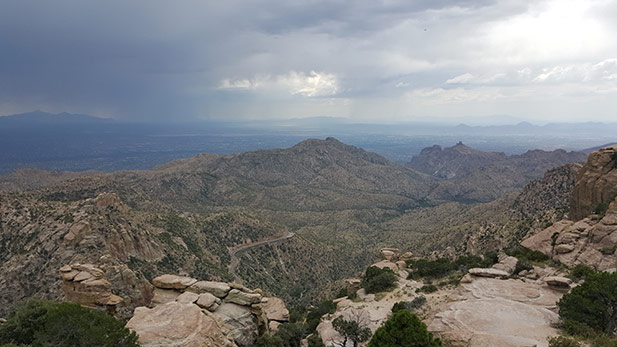 Monsoon clouds build over the Catalina Highway.

AZPM Staff
A normal-to-above-normal monsoon season in 2016 has reduced drought conditions in much of Arizona. Climate forecasters are waiting to see if a La Niña phenomenon develops, which would bring drier conditions.
Much of Arizona is classified as abnormally dry, the least intense category. The southwestern corner is in moderate to severe drought conditions and a section of eastern Arizona in a moderate drought.
"The past year seems to have been wet for Arizona. You have received some beneficial rainfalls, whereas last year at about the same time there was more coverage of moderate drought and even severe drought over some parts of the state," said Matthew Rosencrans, head of forecast operations for the National Oceanic and Atmospheric Administration.
Rosencrans says forecasters are keeping an eye on the Pacific Ocean to see if La Niña weather pattern will develop. That would bring warmer and drier conditions to the state.