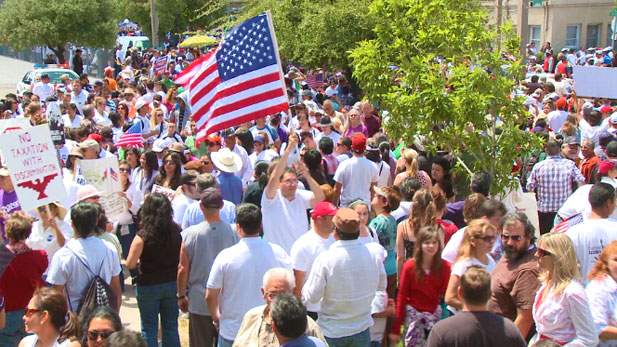 SB 1070 protest in 2010.

azpm
A coalition of civil rights groups announced Thursday it has agreed to end its challenge of Arizona's SB 1070 immigration law.
In exchange, the state issued guidelines on how police are to enforce the law's most contentious section.
Attorney Victor Viramontes with the Mexican American Legal Defense and Educational Fund said at a news conference in Phoenix that the state will instruct police officers that they can only detain someone for a violation of state or local law, not federal immigration law.
"They cannot hold that person even a second longer once they complete the reason for the state law arrest," Viramontes said. "So whether you're a citizen, a lawful permanent resident or an undocumented person, when the reason for the state law basis is over, they have to release you."
While the courts barred enforcement of other sections of the law, the law enforcement questioning requirement was ultimately upheld by the U.S. Supreme Court, despite racial profiling concerns raised by critics.
An agreement to end the last of seven challenges to the law was scheduled to be filed Thursday afternoon.
A draft version of the guidelines includes a requirement that officers document the reasons for their suspicion that a person is here illegally.
The Legislature passed and then-Gov. Jan Brewer signed SB 1070 into law in 2010, leading to both praise and scorn for the state. Included was a boycott of the state that led a number of organizations to cancel conventions.
Several elements of SB 1070 were almost immediately challenged, and much of it was struck down in court rulings that went as high as the Supreme Court.
The "show me your papers" section was upheld, with the caveat that law enforcement officers apply it only in cases in which they have reasonable suspicion that the person they are questioning is in the country illegally.