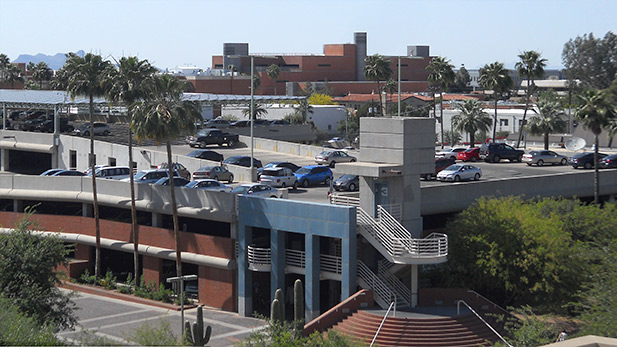 The 2nd Street Parking Garage on the University of Arizona campus.

Colleen Greer, AZPM
By Brooke Goldstein, AZPM Intern
University of Arizona officials have raised the price of parking on the Tucson campus as a way of reducing traffic congestion.
Each day thousands of students and staff members drive to the university and hope to find parking on the campus. Some have learned to expect frustration.
"The first day of school I was late like 50 minutes to my class, and I have never been that late before. It was a mess out there," said senior Pete Reynoso.
Parking at the university has also gotten more expensive for the 17,000 available spots – the exact number of available permits.
This school year, the UA increased parking permit costs 3 percent, with garage parking costing at least $600.
UA Parking and Transportation Director David Heineking says parking fees support alternative transportation and minimize congestion.
"There's no possible way the streets surrounding the university could support the traffic if everyone drove to campus. We would have gridlock pretty quickly."
Heineking says more parking garages are planned for the south side of campus.