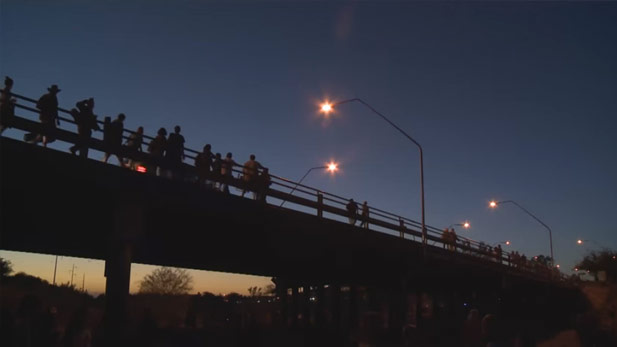 Pedestrians look over the edge of an overpass at Rillito River Park.

AZPM Staff
A project clearing vegetation from part of the Rillito riverbed has given some Tucson residents cause for concern.
Pima County is using bulldozers and other equipment to remove built-up sediment from the riverbed in an effort to improve water flow. Runners, bicyclists and pedestrians on popular paths in an area close to Swan Road have taken notice.
"Unfortunately, you can't remove the sediment without removing the vegetation that's growing on it," said Suzanne Shields, director of the Pima County Regional Flood Control District.
Without the work, Shields said, neighborhoods downstream could flood in future rainstorms.
Local residents have expressed concern about the vegetation removal and the way it's been conducted, as plants in the riverbed were providing mini-habitats for birds and other wildlife.
Residents hope in the future there will be more communication, discussion and planning to prevent or mitigate similar outcomes.