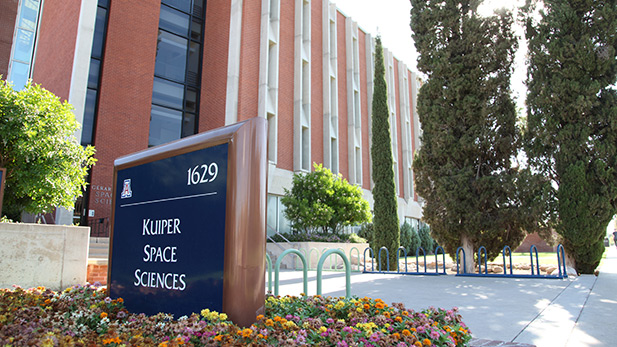 Kuiper Space Sciences Building at the University of Arizona.

AZPM/Bob Lindberg
In case you are not aware, the University of Arizona is sending a spacecraft to an asteroid.
With lots of help, of course.
The UA's Lunar and Planetary Lab (LPL) will preview the upcoming mission at an open house Saturday. Next door, the Flandrau Science Center will open its renovated planetarium theater.
Just 12 days before the asteroid mission's scheduled launch from Kennedy Space Center in Florida, you can learn all about the project, known as OSIRIS-REx, at the Kuiper Space Sciences building on the UA mall.
"People don't realize that this is a big mission. This is NASA's first interplanetary launch in three years, and it is being run out of the University of Arizona," said Tim Swindle, the LPL head and chair of the Department of Planetary Sciences.
The open house will feature lectures and discussions by OSIRIS-REx researchers and scientists, and there will be fine arts performances as well.
A number of local STEM organizations will provide hands-on activities for children including building paper models of the spacecraft and stomp rockets. And lots of meteorites to view.
Next door, the Flandrau Science Center will unveil its renovated planetarium theater. The domed theater has new seating with improved views of the programs, now using digital projection that replaced the "Hector Vector" projection system two years ago. The theater is also used as a classroom for UA courses.
The Lunar and Planetary Lab open house runs from 10 a.m. to 4 p.m.
Flandrau Science Center will be open from 10 a.m. to 10 p.m. Exhibits are free to view; planetarium shows are $3.