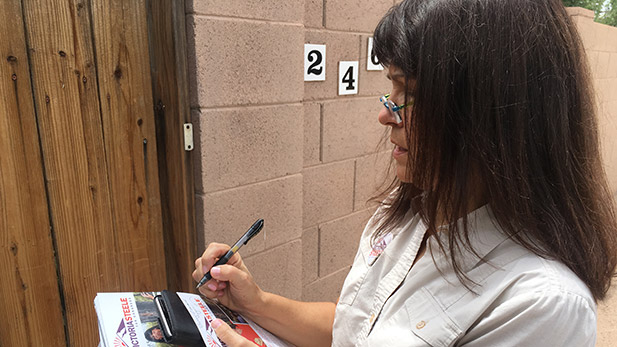 Victoria Steele, a candidate in the Democratic primary Arizona's 2nd Congressional District, leaves campaign literature while going door-to-door. Summer 2016.

Christopher Conover, AZPM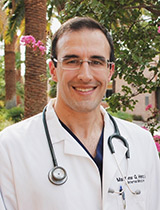 Matt Heinz (PHOTO: heinzforarizona.com)
In an era of ubiquitous social media, politicians are still spending time shaking hands and kissing babies. The old-fashioned practice may seem a time-consuming way to reach voters, but candidates say it is still effective.
Democrats Victoria Steele and Matt Heinz of Arizona's 2nd Congressional District are using grassroots methods in their primary campaigns. The candidates see old-fashioned one-on-one contact as a big part of their strategies.
"Hubert Humphrey knew that. He was out putting campaign buttons on people so that they would remember him and they would have that face-to-face, one-on-one connection," Steele said on a recent Saturday as she went door-to-door in a central Tucson neighborhood.
"When people meet you, it makes a difference. They don't feel they are so disconnected to this system in Washington."
Steele's said her campaign is relying heavily on grassroots methods, which she sees as invaluable.
And the benefits don't stop at meeting voters, she said.
"This is my gym. It is the best way to stay in shape. You just get out and walk and meet people."
Heinz was putting in time making phone calls when he spoke with Arizona Public Media. Like Steele, Heinz is a veteran of the Arizona Legislature. That's where he learned the value of grassroots campaigning, he said.
"You walk door-to-door yourself because you are the most important person that the people want to talk to. You have the ideas. As I went door to door I learned about my community."
Heinz said voters want a personal touch, no matter how big the race.
"They want to know why you are running, that you are a good person, and that you exist. And that helps with people who have met you or work with you in a hospital or whatever."
As a doctor, Heinz said door-to-door campaigning can lead to situations that are somewhat personal. Hear him describe it below.
The candidates will be counting on every handshake and phone call with potential voters in the primary for Arizona's 2nd Congressional District, where the race was won by 167 votes two years ago.