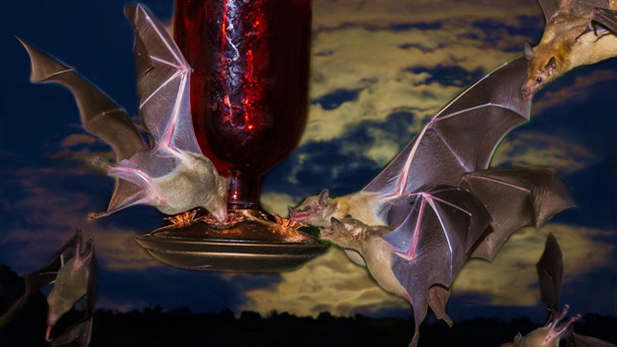 A photo composition of lesser long-nosed bats (Leptonycteris yerbabuenae) feeding at a Tucson-area hummingbird feeder in 2014.

Courtesy of Ted Fleming
Do bats help themselves to the nectar in your hummingbird feeder this time of year?
If so, Arizona Game and Fish, U.S. Fish and Wildlife and the town of Marana want your help to study the population of herbivorous bats that consume nectar and pollen.
"We have people report to our website when the bats first arrive, and they will be showing up mid-to-late August," researcher Ted Fleming said. "When they leave and that occurs toward the end of October.
"How many bats can you see at one time visiting the feeders? Some people report 20-30 bats flying in a swarm in their back yard."
Fleming said those who wish to take part in the count can contribute their information at a website set up by the Town of Marana.
Researchers began the project in 2006, and they have seen the bat population increase since then.