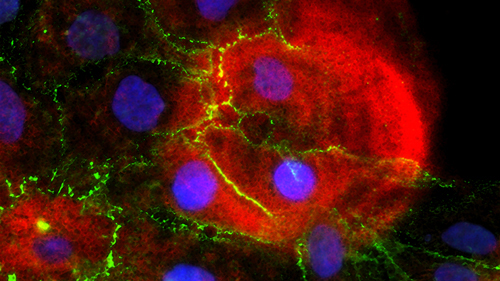 Colorized cancer cells

UA Cancer Center
The University of Arizona Cancer Center is contributing to a national effort to bring cancer treatments and prevention to patients within five years.
The UA Cancer center assembled researchers, clinicians, patients and others from across the state to participate in Vice President Joe Biden's recent cancer moonshot summit. The group offered several ideas to help meet the goal of completing a decade's worth of research in five years.
"Some of the major areas that we could contribute included a very novel approach to diagnosing ovarian cancer," said Peter Lance, deputy director of the Cancer Center.
Specifically, the UA proposes to collect cells from a woman's fallopian tubes using a device it will develop for the screening. The cells would be measured against an abnormality score, the way a Pap test screens for cervical cancer.
"Another area in which the UA Cancer Center has great strength in fact is in imaging, that is radiology, with various ways, many now non-invasive ways to examine what is going on in a tumor," he said.
The UA Cancer Center also is known for its expertise in cancer prevention programs, Lance said, and the summit participants proposed ways to identify people who are obese, which increases their risk of developing cancer.