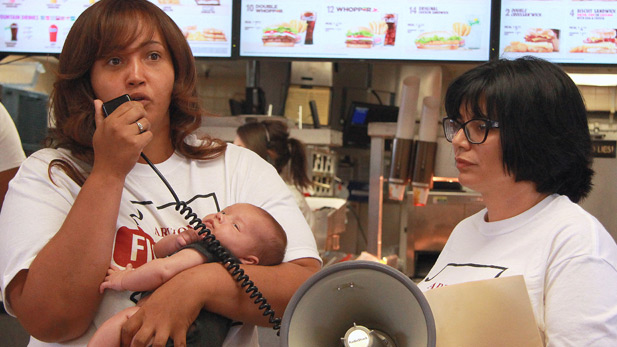 Tucson fast-food workers protest for higher wages, right to form unions without retaliation.

Brenda Limón
Arizona businesses and labor proponents are heading for a collision over the state's minimum wage.
That is as a proposition heads to the ballot asking voters to decide on a minimum wage increase that would take it from the current $8.05 an hour in increments until nit reaches $12 an hour in 2020.
The Arizona Chamber of Commerce and Industry opposes the increase, while supporters, including labor groups and other advocacy organizations, say the current rate contributes to Arizona having the third highest poverty rate in the country – behind Louisiana and Mississippi.
Garrick Taylor of the Arizona Chamber of Commerce and Industry said a higher minimum wage may not be good for workers, and certainly won't be for businesses.
"We do have deep concerns that we have through out the labor market," Taylor said. "And, in fact, it will end up doing more harm than help to the very people that the proponents claim that they want to help.
Taylor called the increase, at 49 percent over the three years from the time it would be approved, "a dramatic hike. ... It would affect employers, but more importantly it would affect employees, people on the first rung of the career ladder or those who are outside the labor market trying to get in because, after all hiring becomes more expensive."
Taylor said that is because a higher minimum wage would mean businesses likely will hire fewer workers.
Championing increases to the minimum wage in Arizona and across the country is U.S. Secretary of Labor Tom Perez.
"Low wages and lousy benefits, we must remember: They are a choice; they're not a necessity," Perez said in an interview.
Perez said Arizona is hit hard by low minimum wages because of its large Latino population. He noted that many more Latinos are affected by low wages than in the general population.
Taylor said he would dispute that, but said that to earn any paycheck, a person must have a job, and a minimum wage is better than no wage at all.
Taylor said voters should not confuse a "minimum wage" with a "living wage" He argued that they are not the same.
Perez said they should be and they must be.
"I meet so many people working a full time job and living in poverty, and the basic purpose of the Fair Labor Standards Act, which passed the minimum wage, was that nobody who works a full-time job should have to live in poverty," he said. "And we are violating the letter and the spirit of this very important law."
Taylor said the debate should not focus on the idea that businesses don't want a minimum wage.
"See this is something that proponents will often say: 'These greedy businessmen, they don't want a minimum wage at all,'" Taylor said. "Let me assure you the debate over the minimum wage, that ship has sailed. We have a minimum wage. In fact, in Arizona we have a minimum wage that is higher than the federal minimum wage."
The federal wage is $7.25, compared with Arizona's $8.05.