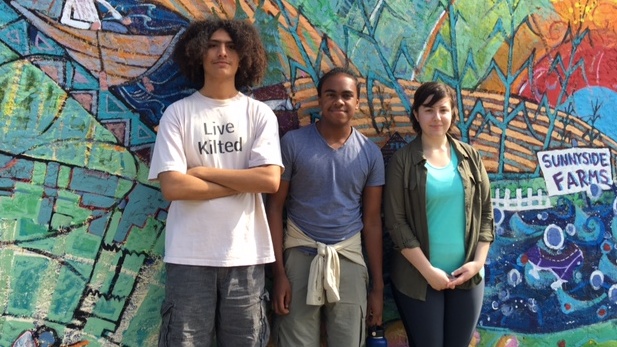 Cheo Pitchford (left), Kashmir McDaniels and Melissa Alvarez came from Los Angeles to go on a Grand Canyon river trip.

Laurel Morales, Fronteras Desk
In a video his friend took, 17-year-old Cheo Pitchford stands on a rock ledge building up the nerve to jump into the muddy brown river several feet below, in Grand Canyon National Park.
Cheo is not your typical national park demographic — young with diverse roots, including European and Native American.
He rode a Greyhound bus for 12 hours from Los Angeles to Flagstaff to go on this river trip through the Grand Canyon. He said it is experiences like this that will leave a lasting impression on the way he thinks about national parks.
"I think they're really important," Pitchford said. "It just allows people to appreciate nature more. 'Cuz like in the cities, all the trees are the same trees. It's always palm trees or like that bushy tree. But when you go in nature you see massive trees [that] are bigger than buildings. It's just like the world outside of the cities are different than what you'd think. So it's just mind-opening."
Historian Wallace Stegner called national parks, "The best idea we ever had. Absolutely American, absolutely democratic, they reflect us at our best, rather than our worst." But Interior Secretary Sally Jewell said the park service hasn't succeeded in reaching people like Cheo.
Jewell recently told a group of conservationists a record 307 million people visited national parks last year.
"And the people visiting the parks? Still the baby boomers," Jewell said. "The majority of visitors to national parks today look like me — older and whiter."
The National Park Service turns 100 years old in August. The centennial should be an occasion to celebrate, but the milestone comes at a time when parks are understaffed and struggling with a $12 billion maintenance backlog. Park superintendents are worried about the next century and who's going to visit and pay to maintain the nation's crown jewels.
Jewell's on a mission to get youth and people of color hooked, too. The Park Service is doing that through youth employment efforts, like the Latino Heritage Initiative Program, and through television ads.
Leading up to the centennial, President Barack Obama used the Antiquities Act to mark historical achievements with monuments dedicated to Cesar Chavez, Harriet Tubman, the Buffalo Soldiers and other American heroes of color.
But for diverse communities to actually go to national parks and monuments, Emma Wharton said people must start asking more questions.
"What are your barriers to wanting come to a national park?" Wharton said. "Is it financial? Is it that wilderness is something that is not of interest to you?"
Wharton directs Grand Canyon Youth, a nonprofit that has been asking those questions and getting kids, who may not otherwise have exposure to the wilderness, to national parks in the southwest. Her organization has reached out to youth in rural parts of the country and inner cities where national parks aren't usually on the radar.
But park officials offer a limited number of river trip permits to programs like this one. Most permits go to commercial boating companies, individual boatmen and researchers.
"I think a lot of times experiences like a river trip through Grand Canyon, they are very limited for either people who know how to do it like in a private trip setting or commercial where you're paying an outfitter for an experience," Wharton said. "And that parks have decisions to make about how do different people get to access those places."
People like Cheo Pitchford. Without Grand Canyon Youth he might never have had the experience of jumping into the Colorado River at the base of the Grand Canyon.